Andrew Lewis
Andrew Lewis is a Trinidadian Olympic Sailing Athlete who competed in the 2012, 2016, and 2020 Summer Olympics in the Men's Laser class.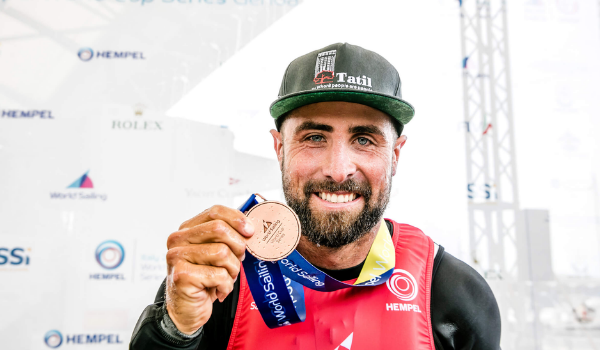 First Appearance:
2003

Occupation(s):
Professional Sailor, Olympic Athlete

Years active:
2003–present

Born on the 30th of November 1989, in West Moorings, Trinidad and Tobago.
Andrew's family used to spend a lot of time on boats so Andrew fell in love with sailing in his early childhood years.
When he was 7, his dad sent him to sailing camp where he was first introduced to the sport.
Lewis chose sailing over anything else in life when he decided he was not interested in pursuing further education, but rather to start training for challenging competitions.

The Laser class has been an Olympic class since 1996.
Andrew finished in 37th place at the London 2012 Olympics.
On the 15th Of December 2015, at age 26, Andrew's life took a turn.
While training and racing in Rio de Janeiro, Brasil, one night after dinner, Andrew decided to jump the fence to the house he was staying in because he has left his keys in the apartment.
After jumping off the fence wall, the fence cap got dislocated and fell on top of Andrew.
The Sailor was immediately hospitalized with a broken leg, two broken ribs, a punctured lung, and facial trauma.
The accident pushed Lewis's motivation and ambition to train again after a long and painful recovery.

On the fourth of March, Andrew Lewis was able to step back into the laser and sailed again.
On May 12-18 in Nuevo Vallarta, Mexico, Andrew Lewis competed again, at the Rio Olympics.
He placed #26.
Andrew is very involved in the Trinidadian community, creating and supporting sailing camps for unprivileged children, inspiring and helping those in need, educating and motivating people all around the small island.
Lewis married his long-time girlfriend and has recently become a proud dad.

At the Tokyo Olympics in 2020, Andrew Lewis placed 23rd in race one of Olympic men's dinghy.
He continues to coach and mentor through his Andrew Lewis Foundation and Youtube webinars.