Apps like TikTok
There are many apps that offer TikTok-like features: Instagram Reels, YouTube Shorts, Snapchat, Chingari, Clash, Dubsmash.
Since 2016 when TikTok hit the market with its game-changing short-form videos, many platforms started mimicking the successful formula.
Common features include video editing tools, adding music from a library, advanced effects, in-app purchases, user engagement, and interaction features, android, and iOS availability.
Here are the best TiktTok alternative social media apps that offer video editing features and lots of filters in order to create catchy looping videos: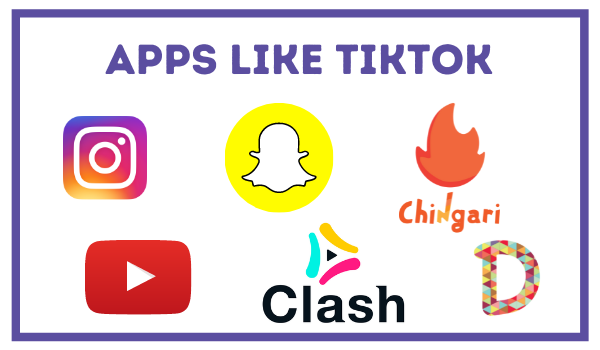 Instagram Reels
Since August 2020, Instagram started to compete with TikTok with the introduction of the Instagram Reels feature. The Meta-owned social media platform also wanted to offer its users the opportunity to create viral trends in short-form video content.
They first started with 13 second-length videos, followed by 30, and now up to 60 seconds long.
Instagram also offers tons of filters and effects, alongside a vast music library.
The social networking platform is keeping close scores with the notorious TikTok.
YouTube Shorts
Following the social video frenzies, YouTube decided to also hop on the wagon with its own version of short videos.
Similar to TikTok's features, YouTube Shorts allows users to upload from the camera roll and merge clips in the app, to create their own Shorts ranging from a few seconds up to 60 seconds long.
Just like TikTok, Youtube users can scroll up and down to watch trending short videos.
Snapchat
Snapchat is the first short-form video app and a great TikTok alternative.
With around 530 million daily active users, most of them teens, the American app connects users via text, photo, and video sharing.
Users can add filters, record, and edit, short forms videos that they can post or send to their friends.
The Snaps are automatically deleted from the platform after 24hours.
But in November 2020 Snapchat released its version of TikTok called "Spotlight".
Instead of just sharing videos with followers, users can now share these videos with all the Snapchat user base.
Spotlight is designed to compete with the best alternatives to Tiktok.
Chingari
With more than 50 million monthly users worldwide, Chingari is very popular in India.
Chingari is India's TikTok version of the app, and it reached success after India's ban over TikTok in 2020.
Offering video effects, music filters, the platform is available in 20 languages.
The style and trends of the videos are extremely similar to TikTok. From users singing, dancing, lip-syncing over popular quotes, showing off their OOTD, or promoting their small business.
Clash
With the TikTok ban threat of 2020, more and more short-form companies flourished in the American market.
Clash acquired Byte in 2021. Byte was the successor of Vine.
Similar to TikTok, Clash users can upload videos with a 16-second length. uses the virality of videos to seek popularity and supports its creators to earn money, in order to attract them to create more.
Videos can be captured within the app or uploaded as pre-recorded clips; Background music can be added from a library of music, and users can follow other users or content creators with whom they can interact in the app.
Dubsmash
When it comes to lipsyncing, Dubmash takes the prize.
The app has 100 million downloads and it focuses on focuses on fun and engaging lip-sync videos.
Available for both iOS and Android users, the app has one of the vastest audio tracks libraries with genres ranging from comedy, music videos, to TV shows.

All these apps are available on the App Store and also on the Play Store.