Bad PR
The term Bad PR is rather self-explanatory. Bad PR is basically doing the complete opposite of the definition of PR.
What is bad PR?
It means that it has a strategy that doesn't have clear goals, doesn't have means of monitoring and measurement, lacks integration with Sales and Marketing, and has overly broad target audiences and poor execution.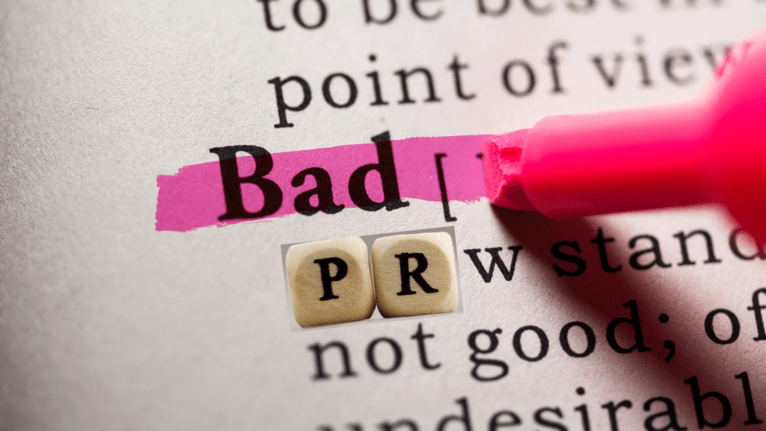 Examples of bad PR
Timing is very important when it comes to creating any media to promote a brand or business. When the PR activity of a company doesn't conform to that, bad PR has the chance to occur. In 2013', in an attempt to raise the profile of then just released TV-series "Sleepy Hollow", PR firm ThinkJam sent an email to its mailing list stating that the 2nd of September was "National Beheading Day" to tie in with the show's theme. This email was sent on the same day the news broke the fact the journalist Steven Sotloff had been beheaded by the Isis group. And although this breaking news was unforeseeable, the sensitive subject matter is one that should have been considered beforehand.
Writing press releases with a poor choice of language makes a company less reputable to the general public. In 2014, DiGiorno Pizza was facing the wrath of the internet after tweeting "#WhyIStayed You had pizza". It should have been harmless if "#WhyIStayed" wasn't about domestic violence. Unfortunately, it seems that DiGiorno didn't do any research before tweeting.
If a company sticks to just one way, it may never be able to reach its full potential. Lululemon's founder, Chip Wilson, appeared on Bloomberg TV, and stated the fact that some women's bodies simply don't work for their yoga pants, as pilling tends to result when thighs rub together. In other words, he affirmed one cannot wear yoga pants if they're too fat. Social media reacted in fury, causing Wilson to post an apology video on Facebook.