Best Time to Post on TikTok
The best time to post on TikTok is either early in the morning or late in the evening depending on your audience's location.
These periods of time can differ depending on what type of content you post and where your audience is located.
Bellow, we created a calendar with the best engagement rates from over 100,000 posts analyzed by Influencer Marketing Hub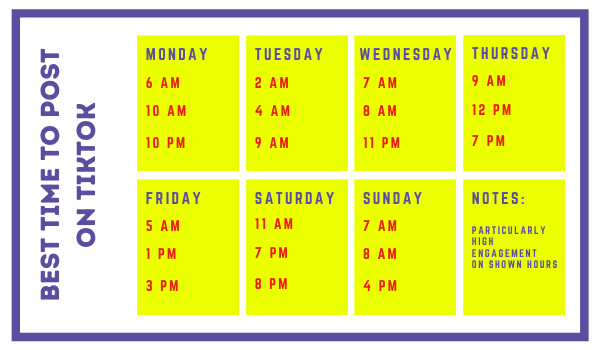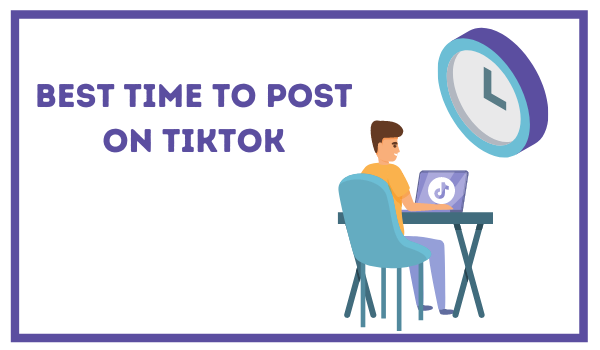 General
TikTok has been one of the fastest-growing social media platforms out there.
With 1 Billion Monthly Active users in 2022, the app is expected to continue growing throughout the year.
Engaging content coupled with suitable and relevant posting hours can do wonders for any business that looks to expand its social media presence.
Posting your videos and having your TikTok followers engage with your content will help create a stronger community, with an increased followers tab, and overall a more profitable TikTok account.
Posting on TikTok may seem simple, but if you are looking to monetize your content or bring revenue to your business, there are a few essential elements that need to be taken into consideration. Quality content, Viral music, Relevant hashtags on TikTok, and timing.
But let's suppose you already covered the first three.
So how do you know when to post content?
When is the best time to post on TikTok
Studies have found that the average best time to post on eastern standard time is either early in the morning or late in the evening
But, we all know that the TikTok algorithm is not simple at all. Therefore, it is best you test out this posting to TikTok game for yourself.

First, start posting a couple of videos, on different time sloths.
Second, take a look at TikTok insights and analytics.
Creating a TikTok Pro account can help you get more in-depth information on that.

Although you might want to post as soon as you have finished filming and editing your clips, the smart decision is to create a publishing schedule based on your TikTok audience analytics.
Depending on time zones and where your audience is residing, the analytics dashboard will reveal the most engaging hours and days for your TikTok video content. This mostly narrows down to when your audience is awake and online on the platform.
Switching to Pro will also give your more information on where your audience lives, watch times, follower activity, content performance and so you can create a better marketing plan for your profile.
The app redirects its users to the TikTok analytics webpage, where you have to sign in with your TikTok user account or phone number.
There, you can download your analytics data into a CSV or XLSX document for a better understanding of your data.
The analytics section is essential for business accounts who want to use TikTok marketing as a way to create brand awareness and draw potential clients to your company.

The easiest way to make sure you respect your post timing is to use a social media scheduler.
Scheduling posts not only helps you bring every TikTok post closer to its target audience but also saves you a lot of time daily.

So when is the best time to post on TikTok for you?
Posting on TikTok should be based on the general audience residing in top territories, best user interactions hours, most engaging day of the week while also trying to keep a posting schedule so that your audience knows when to expect new content from you.
For example, if you see that a TikTok video posted on Tuesday at 9 am had a higher view number than the one on Tuesday at 5 pm, you can surely get an idea of when to post next.