Content Analysis
Content analysis is a type of research used to identify the existence of particular concepts, themes, and words within given qualitative and quantitative data.
What is content analysis
Content analysis focuses on features and content that appear in various forms of media.
Researchers who use content analysis will analyze the following:
Concepts
Themes
Words or phrases
Word choice
Word frequencies
Characters
Unique sentences
For example, researchers can identify and analyze the language used when writing a news article to identify either partiality or bias. After that, they can make inferences about the writer, the messages found within the article, the audience, the time and culture, the context surrounding the text.
How to conduct a content analysis step by step
As an introduction to content analysis, it's important to learn about the essential steps necessary for conducting it. Here are the main steps to conduct a relational content analysis:
Establishing the type of analysis
After choosing the sample, the researchers need to establish the type of analysis for this particular sample: words or phrases, word choice, theme, sentence, etc.
Dividing the text into categories
The researcher must reduce the text to categories and code for patterns and words.
Identifying the relationship between concepts
When the words within the text are coded, the researcher can analyze it for the following features:
Relationship's strength: meaning the degree to which concepts are related.
Type of relationship: researcher will check if there are concepts negatively or positively related to one another.
The direction of relationships: one concept may be primary, and another may be a motivator, meaning the type of relationship that concept manifest.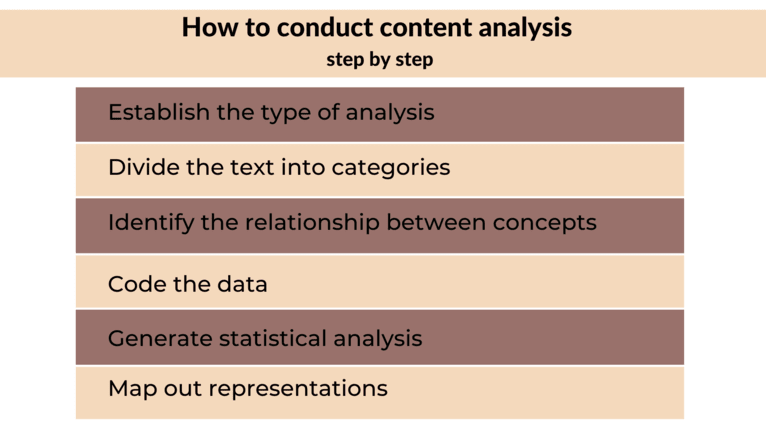 Coding the data (coding schemes for the identified relationships)
The differences between conceptual and relational analysis are that the relationships or statements among concepts are coded. Researchers create coding schemes to use during the research.
Generating statistical analysis
Analyzing the relationships between concepts that were identified during the coding process.
Mapping out representations
Examples: mental models and decision mapping.
What are the advantages and disadvantages of content analysis?
Reduced costs: content analysis is not an expensive research method
Various results: content analysis generates qualitative and quantitative analysis
Accurate results: is considered a somewhat precise tool
Diversity of results: offers historical and cultural insights
Content analysis analyses communication using text and offers proximity to data
Offers insights into the language use
Use complex models of human behavior and human thinking
Content analysis is helpful in documenting trends.
In addition to this, when used with other methods - interview, research, observation - content analysis is a powerful research tool, generating better results.
At times, it can be time consuming
Sometimes, it is challenging to be computerized or automatized
It can generate results with errors (especially in situations when the relational analysis is used to obtain a certain level of interpretation)
In the case of complex texts, it can be reductive
It can often consist of simple word counts
At times it can disregard the context in which the text was produced
What sources of data does content analysis need?
Sources of data for content analysis:
Conversations
Interviews
Survey research
Field research notes
Open-ended questions
Historical documents
Books, essays, speeches
Mass communication (speeches, media, newspaper headlines)
Why do we use Content Analysis?
Content analysis can be used for various purposes:
Determining the communication, intentions, and focus trends of individuals, groups, or institutions
Identifying the emotional and psychological state of a person or a group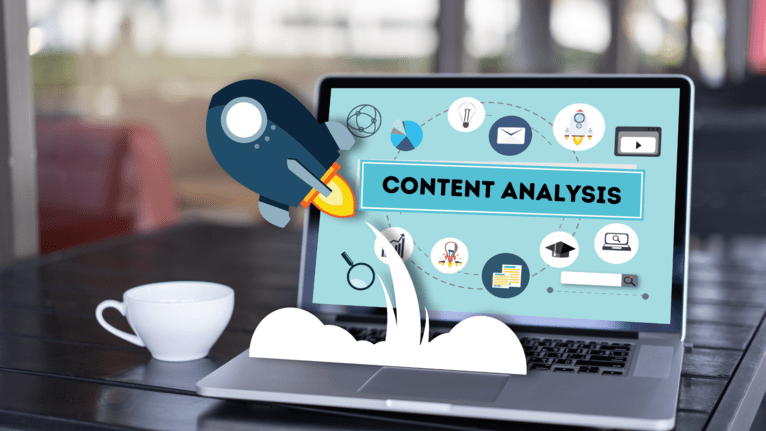 Describing behavioral and attitudinal responses to communication
Revealing international differences in communication content
Identifying patterns in communication content
Complementing quantitative data
Types of content analysis
There can be differenced two types of content analysis: relational analysis and conceptual analysis. Both types of content analysis can offer diverse results, meanings, interpretations, and conclusions.
CONCEPTUAL ANALYSIS
Conceptual analysis is used to determine the existence and frequency of different concepts within a text. What does conceptual content analysis mean? When thinking of content analysis, most people think of conceptual analysis. In this type of research, concepts are chosen for examination. The conceptual content analysis includes quantifying and counting that particular concept. The main purpose is to determine the occurrence of the selected concepts in the given data. In order to start a conceptual content analysis, you need to establish the research question and choose the samples for analysis. After that, you must code the text into categories. By classifying the text into manageable content categories, researchers are able to focus and notice specific words and patterns that correspond to the research question.
RELATIONAL ANALYSIS
Relational content analysis develops conceptual analysis by analyzing the relationship between concepts identified in the text. The relational content analysis starts similarly to conceptual analysis, meaning a concept will be chosen for analysis. After that, you need to establish a research question and choose the sample (or the samples) for the analysis.
Here are the three subcategories of relational analysis to choose from before following the general steps of the analysis:
Affect extraction represents an emotional evaluation of concepts.
Proximity analysis means an evaluation of the co-occurrence of explicit concepts.
Cognitive mapping is a visualization technique for the analysis mentioned above - proximity analysis or affect extraction.
Reliability and Validity
During content analysis, there can occur coding errors. Although they cannot be eliminated, coding errors can be minimized. Typically, an acceptable margin for reliability is around 80%. The following criteria comprise content analysis' reliability: stability, reproducibility, and accuracy.
There are three criteria composing the validity of content analysis: closeness of categories, conclusions, and the generalizability of the results to o theory.
References
Scribbr, Content Analysis | Guide, Methods & Examples, https://www.scribbr.com/methodology/content-analysis/
Study.com, Content Analysis in Social Research, https://study.com/learn/lesson/content-analysis.html