Corporate Reputation Management
Corporate Reputation Management is the process of monitoring and evaluating people's opinions about the business and requires it to listen to those people that support the business. The business activity views and analyzed by lots of people: customers, employees, stakeholders, and local communities that can shape the image of the brand in online marketing.
General Information
Corporate reputation is the overall estimation in which an organization is held by its internal and external stakeholders based on its past actions and probability of its future behavior. Managing corporate reputation implies to listen to the audience and monitor customer feedback. t is a free option to find our honest opinions form your audience.
In digital marketing, if you want to understand your audience and seek real opinions, companies invest in qualitative measures and start questioning or perform focus groups and lots of other strategies to measure people's opinions and find out their reasons to buy or not buy the products/services.
Looking at customers' feedback and online reviews is a good indicator or what do people think about you and the reputation that precedes your business.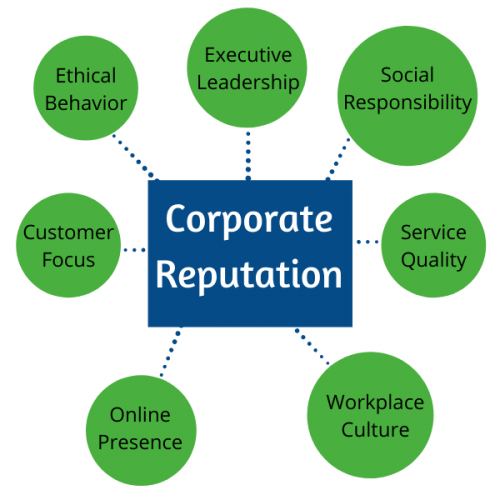 Corporate Reputation Factors
Many factors can influence a company's reputation, including:
Consistent excellent customer service
Vision and leadership within a market
Corporate scandal or wrongdoing
Even how companies react to cultural or political changes.
Harris Poll Reputation Quotient measures public perceptions across 20 attributes, classified into six dimensions of corporate reputation:
Social Responsibility
Vision & Leadership
Financial Performance
Products & Services
Emotional Appeal
Workplace Environment.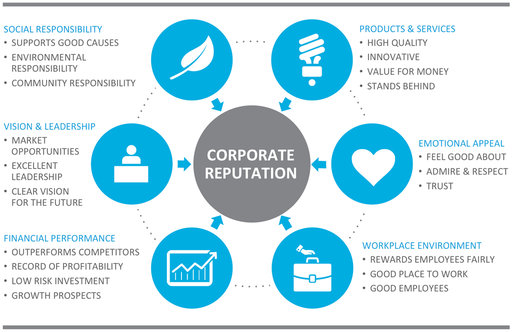 Following the corporate reputation might be easier to track online. Corporate reputation can determine the ability to have an advantage in the next processes of employee recruitment, employee development, and employee retention. Plus, it strengths the image brand, customers' trust, and builds a better relationship with investors.
External Links
https://theharrispoll.com/Reputation-Quotient/
https://www.linkedin.com/pulse/importance-corporate-reputation-treavor-halleck/