Examples of Brand Values
General
A company's brand values represent an integral part of a company's identity and an agent of success.
A strong brand will know that its values shape its customers' journey, experience, and loyalty to the brand.
Because clear core values determine a transparent brand identity, they also increase employee engagement through company culture.
The more the employees resonate with a company's shared values, the more likely they are to advocate for it.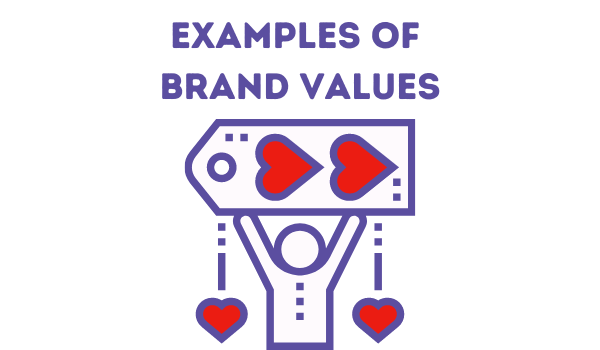 Examples of Brand Values
Having an "About Us" page with some history may not be enough when it comes to having a well-thought-out brand strategy.
Communicating what are a company's core brand values can seemingly come packaged as a mission statement; clear and concise, aiming for attributes that sets you apart or with a distinct focus on the user.

Here are 10 brand values examples that any company can use for inspiration:
Transparency
A brand can show it is genuine and open in many ways through transparency. Whether it is an economic or an ethical discussion, transparency shows character and integrity.
Innovation
For example, a brand can bring innovation by freeing the consumer from market current constraints. Even more so, the brand can incorporate the consumer into the innovation process.

Sustainability
Especially in 2021 sustainability is on everyone's lips. Brands can road-map their product to showcase their sustainable sources or they can show their support to sustainable causes by drawing donations.

Diversity
More and more businesses present themselves as all-inclusive brands. Diversity and inclusion have become imperative aspects that need to be integrated when it comes to customer commitment.
Integrity
Integrity is one of the core values that define the overall customers' trust.
Empowerment
A brand that prides itself with empowerment as one of its core values is a brand that supports and delegates its employees by giving them the freedom to act upon their decisions. Empowerment as a way of management encourages the employees to be active actors in the role of the company and become personally accountable for their actions.

Diligence
One of the seven heavenly virtues, diligence also applies to brand values. A company that showcases diligence, is a company that sends a message of careful and persistent work ethic.
Precision
When talking about precision, a brand talks about operational excellence. Quality over quantity is a strong value to carry. Precision is the cherry on top.
Individuality
Individuality and personalized services bring brands closer to a more authentic way of interacting with the client. Individuality is a much-needed market strategy especially in the era of fast communication.

Care
Empathy has never been more relevant than now. Communicating a relatable brand story through showing emotions and empathy generates high levels of trustworthiness.

Successful brands have turned their brand values into phenomena that have the ability to shape your culture and continue to inspire brand corporate culture.
A certain set of values have the power to differentiate your brand into notoriety.