Grace Neutral
Grace Neutral, on her real name Grace Walker, is a British hand-poke tattoo artist, tv-show presenter, social media celebrity, and model.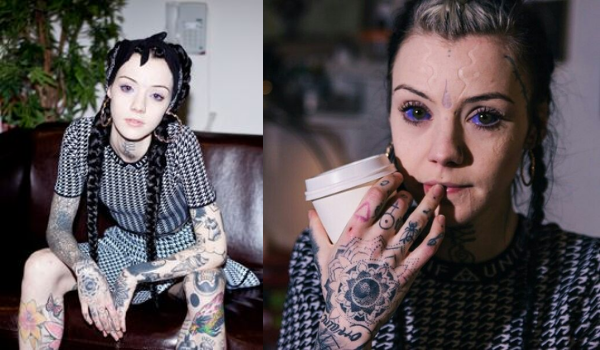 Full name: Grace Walker

Best known as: Grace Neutral

Born: 29th of March 1989 Dubai, United Arab Emirates

Occupation(s): Hand-poke tattoo artist, tv-show presenter, artist

Years active: 2010–present
Social media accounts: Instagram

Grace was born on the 29th of March 1989, in Dubai, in a family of four. Her family used to travel the world before they settled in a tiny village in Southwest England.
At the age of 20, the future hand poke tattoo artist moved to London, where she quickly got acquainted with the tattoo industry.

Growing up with an artist mother, specifically a silk painter, Grace was a child exposed to alternative representations of beauty such as tribal culture and traditional body modifications.
Her older sister is a sculptor. So she has been bought up by two very creative women who always encouraged her when it came to art.

Since she was little, Grace loved to draw. At 15 she left school and enrolled in the art college to study fine art and photography, but dropped out after about a year.
After finishing a course in prosthetics and special effects makeup, Walker got a job as a sculptor at Madame Tussauds.

Grace started her journey in body modifications by splitting her tongue. After that, she continued to have a series of body modifications like sculpting pixie ears, belly button removal, and piercing punching her nostrils.
Aside from multiple scarifications, the heavily tattooed femme fatal decided to tattoo her eyeballs.

Neutral started as a body piercer who transitioned into the hand-poke arena in 2010.
She feels that tattoos and body modifications are a form of therapy.

Grace posted almost all of her body modifications on her Tumblr account, so the pixie dream girl quickly attracted a lot of attention, being featured in multiple articles online, giving interviews, and even starring in music videos.
She even walked the runway at the London fashion week.

In 2015, Grace Neutral was interviewed by the British culture channel I-D.
In 2016 Walker got presented with the opportunity to host the I-D Magazine Youtube documentary series called Beyond Beauty.
Grace traveled to different countries to discover various alternative beauty ideas and representations.

At the end of 2016, the alien princess hosted another Vice documentary called Needles and Pins, exploring the tattoo culture in various worldly places
Since 2018, Grace Neutral is the owner of the tattoo studio Femme Fatale, in East London.
Amongst her hand poking clients, Grace has tattooed Grimes and Brooke Candy.

In 2019, the renowned tattoo artist, documentary filmmaker, and activist Grace Neutral launches her first publication- a physical book that brings together over 500 of Grace's impressive mandalas and alchemical design.
Grace exposes her work on Instagram, where her 586k followers can see her work and even book a session with her.