How to get verified on Instagram
If you want to know how to get verified on Instagram to gain your audience's trust, you may start by learning how to request verification on this platform.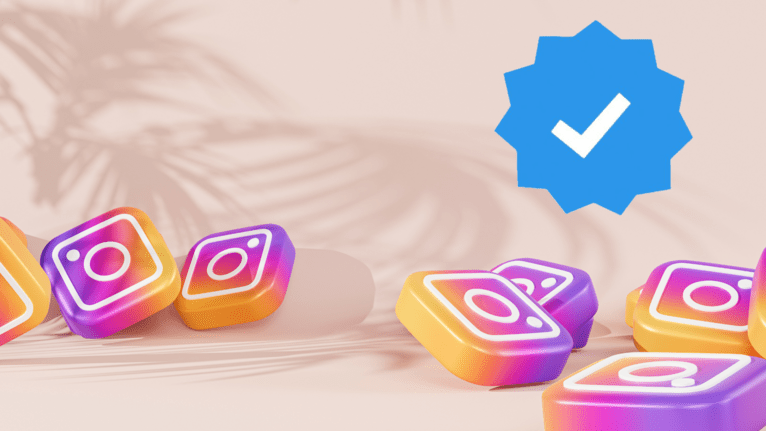 How to get verified on Instagram in a few steps
Getting your verification on Facebook or other social media accounts does not guarantee you'll get it on Instagram. But you should know it helps. It can be pretty difficult to get your verification badge on Instagram, being already established on other social media accounts increases your chances of getting verified. Applying for Instagram verification can be done rapidly in a few simple steps.

Get your Instagram badge step-by-step
Log in to the account you request verification blue tick.
Tap your profile picture (bottom right) to go to your profile.
Tap the icon in the top right, then tap Settings.
Tap Account > tap Request Verification
Complete the required data: enter your full name and upload the required form of identification (official business documents, Government-issued photo ID).
Follow the instructions, then tap Submit.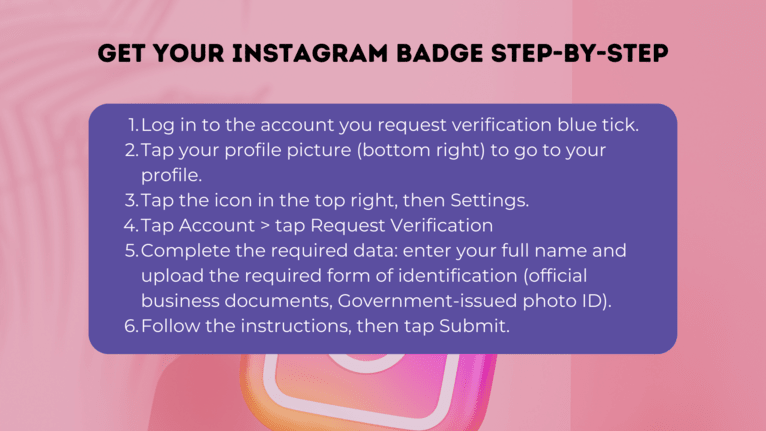 What is Instagram verification?
The verification badge on Instagram is a blue tick that will appear next to your name on your Instagram profile and in the bar whenever people search for it. The blue checkmark on Instagram also helps people to find brands, celebrities, and public figures more easily. It is important to understand that verifying your account is not a form of support or promotion provided by Instagram. Instead, getting the blue tick means that Instagram has confirmed a specific account is the authentic presence of a public figure, celebrity, or brand it represents. The verified badge does not symbolize authority, importance, or expertise. Once a brand, celebrity, or public figure gets the verification, the username may not be changed anymore. Instagram verification cannot be transferred to another account. Any Instagram account that impersonates a brand, celebrity, public figure, or other people (for example, fake accounts or a fan account) is not allowed on Instagram, as they go against Community Guidelines.
Benefits of the blue checkmarks - Why get verified on Instagram?
First of all, a public figure, celebrity, or brand needs Instagram verified badge when it risks being imitated by fake accounts. Here are the main benefits of the blue checkmark on Instagram:
Expresses your brand's authenticity and uniqueness
Maintains your brand health and improves awareness
Increases followers
Safeguards the brand from fake accounts (imposters)
Provides early access to new Instagram features
Ensures lots of collaborations
Instagram badge contributes to your online reputation and helps gain trust amongst your audience.
Instagram verification FAQ includes the question - How to get verified on Instagram without being famous?. Instagram allows anyone to apply for a verified badge, but the chances of getting one are small if you're not a celebrity, a global brand, or a person with notable activity (authors, artists with a large audience)
Tips for getting verified on Instagram
If you want your verified badge, you need to ask for it from mobile devices/ The feature is not available on computers, so you'll need to select one of the following devices to learn how to get your verified badge.
In order to acquire your blue tick on Instagram, there are a few criteria you need to be aware of, starting with following Community Guidelines and Instagram Terms and Conditions. Before sending your request verification on Instagram, take time to check the following:
Whoever applies for verification badges must be a real person or represent a registered business or entity.
The account requesting the blue badge must be the only presence of the person or business (or entity) it represents. Instagram verification is available for notable entities like publications, pets, etc.
According to Instagram Community Guidelines, the app allows one account per entity, person, or business to get their verification badge on Instagram.
Account must be complete and well maintained. Increase your chances of getting your verified badge on Instagram and update a profile photo, write your Instagram bio, and post at least one Instagram post.
Typically, the account must represent a known, followed, highly searched-for brand, person, or business.
Resources
Instagram, Verified badges, https://help.instagram.com/
NFI, How To Get Verified on Instagram - Everything You Need To Know, https://www.nfi.edu/how-to-get-verified-on-instagram/