Influencer Cash
Influencer Cash was a site where people could become members and earn money on social media. The site was launched in September 2019 and it started to promote as a way to earn money online. Members were promised to gain $200+ per day with your social media.
What started as a beautiful dream ended in a nightmare for lots of people.
The website (influencercash.co) is down and the program had ended since lots of people reported it for online scamming. There are lots of reviews, articles and videos where people have expressed their feelings: "Everything About It Is Fake", "WARNING Stay Away, It's a Scam!"and so on.
General Information
InfluencerCash.co is a fake reward program that claims to pay a lot of money for social-sharing and doing easy tasks. It promised people they could earn money online through a reward system.
For example, the tasks were as following:[1]
$25 just for signing up
$10 each time you get your friend or social follower to join
$30 each time you complete a (fake) survey
$50 each time you promote InfluencerCash on YouTube.
During the time the tasks were completed, every member collected money in their InfluencerCash.co account.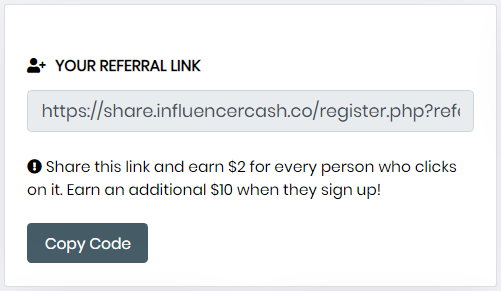 Some people started asking questions because it looked to good to be true, and they were right. It was a way to earn money very easily.
When people started requested a cashout of their earnings, the site sent them they are processing the payment and gave each member a payment number.
Or, in other cases when they request payment, InfluencerCash sent members a message and banned their account using as an excuse that all the clicks they got on their link and all the people they referred to the platform are fake.

At that moment more and more members started asking if "InfluencerCash.co - Legit or Scam?" - hence the hundreds of videos that you can find online.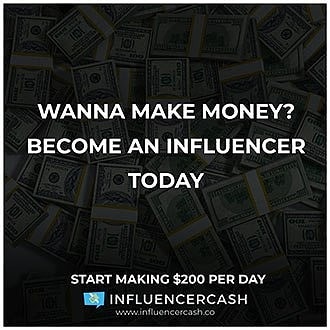 The site has 1.5 stars on TrustPilot and lots of reviews, articles and videos where people were saying they haven't received any money and it is a scam. And soon InfluencerCash.co saw the dust.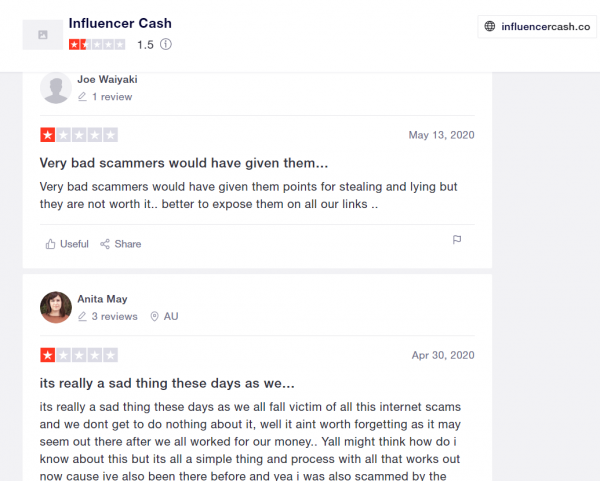 Why the business didn't work?
In their Terms and Conditions was mentioned that money is "generated from ad-spend revenue and sponsorship products". But $30 or $50 is a lot of money for just simple tasks. Sharing a link on social media is not a valid task, nor a job. Plus, to get $25 just for signing up is not real. Who would give money to people just for signing up on a website? A surveys-for-cash scheme does pay money, but usually 15 - 50 cents per survey.
InfluencerCash was free to join. Technically, it was not100% free to use. Every member had to give personal data such as name, phone number, contact address and other sensitive information to an untrusted business. Those who added their phone number received lots of promotional text messages per month at their own cost.
Members were promised to receive $25 in their account if they submitted the next tasks:
refer at least 5 people to the platform
complete at least 5 tasks on the $30 TaskWall
have at least 20 clicks on your unique referral link
have earned at least $200 with InfluencerCash.
InfluencerCash received "advertising income" from those fake survey companies - usually $1-2 every time a user completes a task (signs up with a fake survey company). The business didn't have other sources of income. Lack of income made them fail and businesses didn't manage to sustain their activity.
InfluencerCash used Social Media in their tasks for persuading members to create YouTube videos promoting InfluencerCash or publish promotional posts on Instagram/Facebook/Twitter with the whole purpose of gaining visibility and fooling more people into joining a fake business.
External Links
References