Instagram Creators
Instagram Creators is a category of Instagram profiles that caters to the growing number of influencers that use the platform for personal brand promotion, artwork, and product endorsements.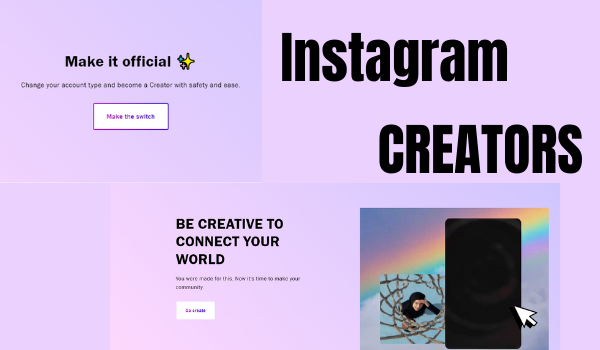 General
With over 1.4 billion monthly active users, Instagram is one of the most popular social media platforms out there.
In 2014, a few months after introducing sponsored posts and advertising, Instagram launched the business profile. Although very limited at first, businesses could now personalize their social media profile and analyze impressions, reach, and frequency related to ad campaigns and individual ads.
With the rise of content creators, Instagram sees the necessity to address the needs of creators also.
In January 2019, they announce plans to introduce Creator Accounts.
May 2019 is the month that Instagram is testing and launces the Creators Account.
Content creators can now access metrics on growth data, follower insights, and streamlined direct messages.
In February 2021 Instagram launches a Professional Dashboard for businesses and creators.
Instagram Creators is also an Instagram account with 8.2 million followers that brings together creators from all parts of the internet.
Influencers and content creators generate guides, answer questions on live streams, or share Instagram story trends on this all-encompassing creator account.
The Business.Instagram web page also offers great value on the Creators accounts.
How to Change your Account type to Creator
1 Go to your profile and tap Menu in the upper right corner.
2 Tap on Settings.
3 Select Account.
If you are migrating from a personal account, choose Switch to Professional Account and tap Creator.
If you are migrating from a business profile, choose Switch to Creator Account.
4 Select your category. You can choose a category that best describes what you do.
5 Add your contact information if required. You can choose to display or hide this on your profile.
Choose your profile display options. You can also decide whether to hide or display your category.