Instagram Logo
The Instagram logo has changed a bit over the years, transitioning from an old polaroid camera in 2010 to a colorful minimalistic design from 2016 till now.
Robert Padbury is the designer behind the new Instagram logo.
The Social media platform has had four major changes to its logo images.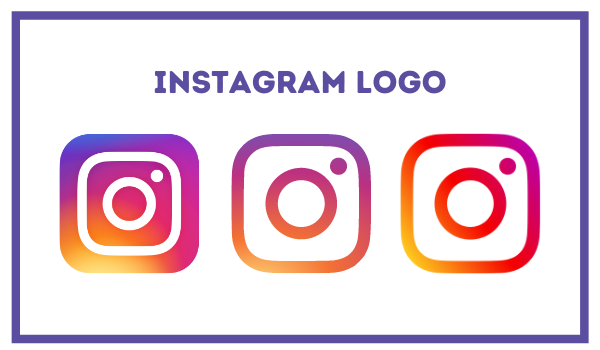 Instagram Logo Versions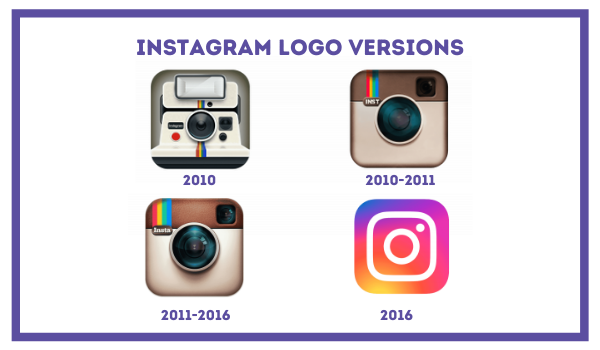 Instagram's brand identity morphed from a photo-sharing-focused app into an all-inclusive social networking app.
The first IG logo was designed by co-founder Kevin Systrom back in 2010.
The original Instagram logo was the illustration of a Polaroid camera with a rainbow stripe.
The second logo version came out pretty quickly after the first one when the Instagram team decided to collaborate with Cole Rise, a professional photographer, and designer.
Cole came up with an impressive Instagram icon in around 45 minutes. The Bell & Howell camera-inspired logo got a retro 1950s vibe that lasted until 2016.
The 2010 logo was slightly tweaked in 2011 when the emblem was slightly updated, but the overall look remained the same. The leather texture and camera glare became more realistic, and the uppercase sans-serif "INST" text was replaced by a bold serif "Insta" with only the first letter capitalized.
The fourth Instagram icon version was revealed in 2016, together with the app update.
The minimalist, bright gradient version is still rooted in the classic versions before but has a more abstract, flat vibe.
Although many have criticized it, the Instagram logo has remained untouched from 2016 until now.

The Instagram logotype also faced four design versions.
Instagram Logotypes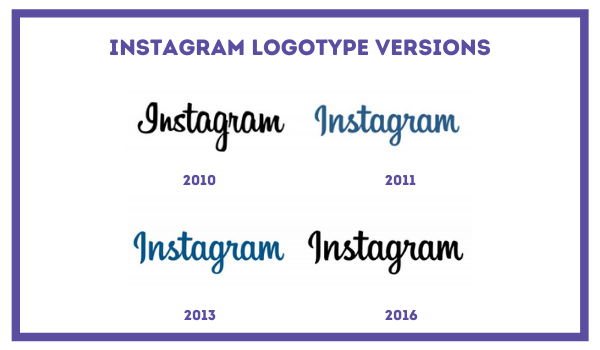 The 2010 original version of the Instagram logotype was executed in simple black color with elongated lines and curved tails. In 2013 the logo designers switched to a blue color palette and a more straightened and softened cursive lettering.
The 2015 logotype was slightly modified into a new shade of darker blue, looking more confident and chic.
The 2016 and current Instagram insignia changed back to black, contrasting with the gradient orange-pink square on white paper.

The Instagram symbol is a black and white monochromatic logo that comes in two versions: a solid black square with rounded angles and a more frame-like emblem of the current logo.