Is Telegram End to end Encrypted
Telegram is not end-to-end encrypted by default.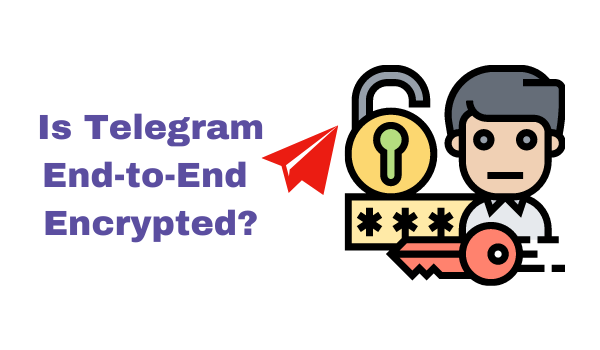 General Information
While WhatsApp is losing users following the January privacy updates, two other instant messaging platforms are on the rise for the most secure messaging app.
Telegram is one of them.
Founded and created by brothers Pavel Durov and Nikolai Durov in 2013, Telegram spiked this year, after WhatsApp announced they will be sharing user data with the parent company, Facebook.
Telegram currently counts around 500 million users worldwide.
Telegram features
The instant messaging app offers one-to-one chats, group chats, voice, and video calls, as well as shared files up to 2 Gb.
Telegram uses cloud storage to stock user's data. Therefore, they offer cloud message synchronization. Users can access their accounts and files from any other device as long as they are logged in.
Users can opt for customized app themes, upload multiple profile pictures, share live locations, use chatbots, share screen during live video calls, and many more.
The secret chats on Telegram are actually the only option of end-to-end encryption.
Is Telegram end to end Encrypted?
Although the Durov brothers designed Telegram as a secure way to share information on the app, the basic Telegram chat is not end-to-end encrypted by default.
Telegram does encrypt the default chats between the user and Telegram's server.
However, there are many ways to send a Telegram message.
Users can send a message in a private chat or group chat without the extra Telegram security, but if they want to send an end-to-end encrypted message, you have to manually activate the "secret chat" feature.
Alongside secret chats, using the self-destructing message feature is a great addition to the Telegram security system. This feature operates on a self-destruct timer you can set up before starting to share information in your chat.
To assure extra security, the instant messaging app can send users a notification if their conversation has been print screened.
Regarding encryption, Telegram uses an "encryption key". To put it simply, this is a picture that the two users can compare between them to assure the secret chat is secure and that no third party can crash the reception.

Telegram founder [Durov] wrote in a Telegram blog post that "every chat on Telegram has been encrypted since launch. We have Secret Chats that are end-to-end and Cloud Chats that also offer real-time secure and distributed cloud storage."
Regarding the WhatsApp/Facebook drama, Dubrov flaunts Telegram's secret to success: respecting its users.

References:

https://newsable.asianetnews.com/gallery/whats-new-technology/tech-telegram-founder-success-secret-startling-claims-on-whatsapp-vpn-qmpv6r#image2