Is Telegram Safer than WhatsApp
Is Telegram safer than WhatsApp?
It depends. In terms of end-to-end encryption where only the sender and recipients of a message can read its contents, Whatsapp has everything tightly secured.
Unfortunately, Telegram does not have this type of encryption running by default.
Telegram does have the Secret Chat feature where two users can exchange information using end-to-end encryption and bypassing Telegram's cloud, but this feature does not extend to group chats.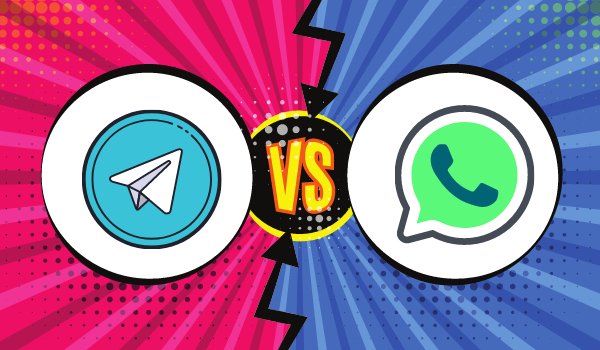 General Information
WhatsApp was purchased by Facebook back in 2014 for $19.3 billion.
Allegedly Whatsapp has been collecting metadata about their users and sharing it with Facebook for further use in personalized advertising.
Furthermore, in January 2021, WhatsApp listed its official privacy policy. They stated that some personal data about the users could be collected and shared with the Facebook Family.
This raised a lot of eyebrows, to say the least.
Though WhatsApp security encryption protocols remain unchanged, data collection is a serious matter.
Since WhatsApp's backlash on their privacy policy, many users started looking for alternatives for social network instant messaging platforms.
Alternatives
Signal and Telegram are two of the best messaging app alternatives to the ladder discussed.
Telegram was founded in 2013 by Russian brothers Nikolai and Pavel Durov.
Today, the messaging application has around 500 million users.
Regarding data collection, Telegram only collects user data like name, phone number, contact list, user ID, and IP address.

In terms of secure messaging, Telegram does not have the heaviest spot on the privacy scale.
Unlike WhatsApp or Signal, Telegram`s messages aren't encrypted by default.
Also, they are not completely transparent about what happens with your messages once they hit Telegram servers.
Telegram can give a false sense of security because of its Secret Chat and self-destruct messages feature.
If you are looking for an alternative to WhatsApp, security researchers and many other media moguls like Elon Musk advise using Signal instead.
References: https://www.cnet.com/tech/services-and-software/signal-whatsapp-and-telegram-all-the-major-security-differences-between-messaging-apps/