Is TikTok Banned in China
No, TikTok is not banned in China, it just isn't available under the same name. 

Although it is true that TikTok is not available for download in mainland China, it is not banned. 

The Chinese version of TikTok is actually the original version of the app, called Douyin.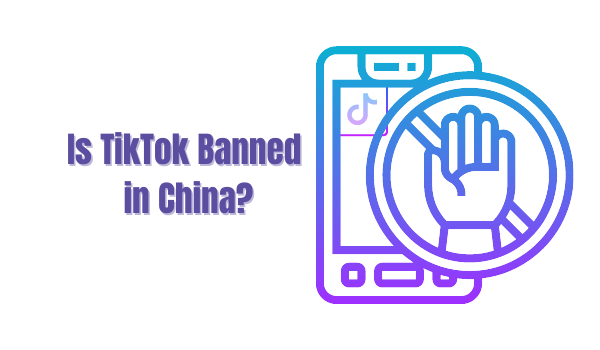 The story of Douyin and TikTok
Douyin was launched in September 2016, Beijing, China. It was created by the company ByteDance initially by the name of A.me but it quickly rebranded to Douyin.
Douyin is a video-sharing social media service, used to create and share short-form videos of a minimum of 15 seconds and a maximum of 3 minutes in length.
In an effort to expand the Chinese-owned app, which by the spam of one year had earned 100 million users in China, Douyin founders created the international version of the social media platform. They called it TikTok.
TikTok was launched on the international market in September 2017.
In November 2017, TikTok's parent company, ByteDance purchased the Shanghai-based startup Musical.ly.
Musical.ly had been around since 2014 and even though it was another Chinese-based app, it already had offices in Santa Monica, California.
At the time of the purchase, TikTok earned another 200 million users from integrating Musical.ly to its platform.
Fast forward to 2021, TikTok can pride itself on around 1 billion active users worldwide.
Back in mainland China, Douyin averages more than 600 million daily active users.
Despite the fact that the strategy of separating the two social media platforms based on their users' locations and app names was a good move made by the parent company, TikTok has had a bumpy road in countries like India, Pakistan, and the U.S.
In 2020 the Trump administration tried to ban TikTok and Wechat but without success. The Biden administration revoked the orders of former President Donald Trump to ban the app.
However, India completely banned TikTok in June 2020. India's ban follows a military dispute with China stating a matter of national security. TikTok was not the only Chinese app that got banned from India. 223 other China-based apps got excluded from Indian usage.
Differences between Douyin and TikTok
Although both Douyin and TikTok are created by the same Chinese parent company, there are slight differences between the two apps.
The availability for download and usage varies according to the user's location.
Douyin and TikTok run on different platforms.
Douyin is meant for the Chinese market, which means the content on the platform differs from TikTok content.
On Douyin users can actually buy products or book a stay featured in the videos. It only takes 3 taps.
Unlike TikTok, Douyin has the feature of in-video search.

In conclusion, TikTok users can only download and use the app, as we know it outside China and vice-versa when talking about Douyin and Chinese users.

References: