Is Wechat Safe
Wechat is not safe.
The Chinese instant messaging app is far from being safe in terms of privacy and data collection.
What is Wechat?
Wechat is a Chinese multi-purpose app that is currently used worldwide. It was launched in 2011, by a company named Tencent Holdings Limited.
WeChat is an interesting combination of features such as voice and text messaging, social media, mobile payment, booking and renting engine, and games.
This all-in-one app seems to be the go-to platform for Chinese users but not only.
With over 1.25 billion monthly active users, WeChat has extended its tentacles worldwide.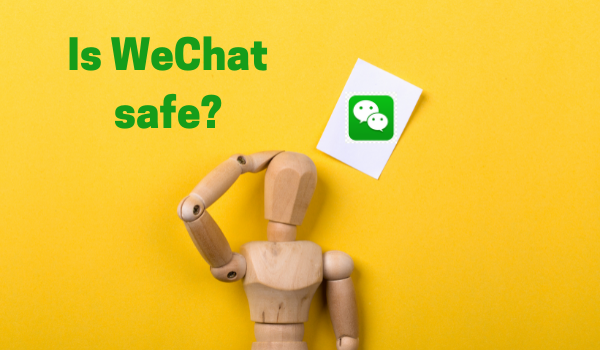 Is Wechat safe?
The Chinese popular messaging app is far from being safe in terms of privacy and data collection.
Just like many other social apps out there, Wechat security does not use end-to-end encryption.
This means that the information that is shared through the platform does not stay between the two end-users.
Wechat employs transport encryption instead. This means that the data is encrypted between the user and Wechat's server.
In addition to this, although Wechat is owned by a private company, Tencent follows the jurisdiction of the Chinese government.
In China, the government often censures information that goes against their guidelines.
Therefore, Chinese users' activity can be monitored, censored, or even used to diminish their social credit score.
Wechat is not secure regarding encryption, nor is it discrete with their data collection.
Wechat knows who you are, your phone number, your money spending habits, where you work and travel, and who your friends are.
Outside China, there are many states that banned the all-in-one app, mostly regarding safety concerns.
Some tech experts are afraid that the Chinese app could carry malware that can collect and sell users' data on the dark web.
While Tencent denies these allegations, there are no guarantees that the app itself can't be breached and hacked.
Wechat safety tips
If you find yourself in the situation of having to use this app, here are some safety tips that might make your messaging and communication safer:
Try to use a different mobile device, used exclusively for Wechat
Try to add as little information to your Wechat account as possible
Change your privacy settings and keep an eye on them from time to time
Use VPN apps
Use a strong password
Log out after using the app
Update the app often
References:
https://www.washingtonpost.com/technology/2020/09/18/wechat-ban-faq/