Leadership styles
Leadership styles refer to the different approaches and methods that leaders use to guide, motivate, and influence their teams or organizations. There are various leadership styles, each with its own characteristics, strengths, and potential drawbacks.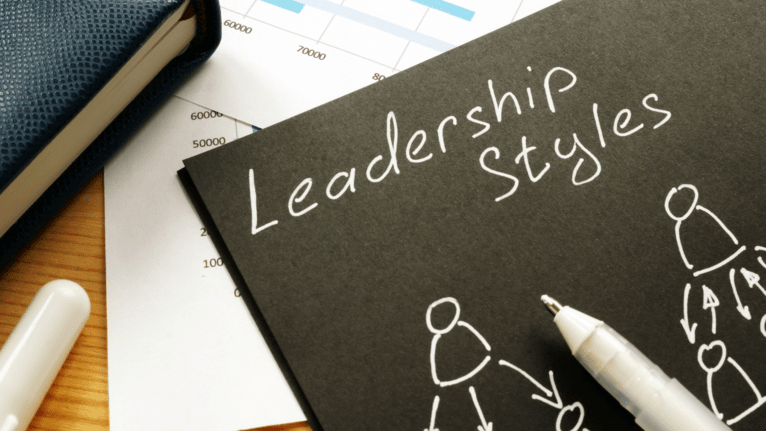 Exploring the Various Leadership Styles
Leadership, a cornerstone of effective management, encompasses a spectrum of styles, each tailored to different circumstances and organizational needs. Let's embark on a journey through these leadership styles:

1. Coaching Leadership Style
A coaching leader nurtures their team's growth through guidance and mentorship. This approach cultivates personal and professional development, fostering creativity and innovation within the team alongside setting goals (both short-term and long-term goals).

2. Transformational Leadership
Transformational leaders paint a vivid vision of the future, encouraging employees to align with the company's purpose. Their dynamic approach ignites organizational change and fuels innovation.

3. Servant Leadership
A servant leader's focus is on their team's well-being. By prioritizing their team members' needs, they create a supportive environment that enhances job satisfaction and encourages creativity.

4. Laissez-Faire Leadership
Laissez-faire leaders provide autonomy to their team members, promoting self-direction and independent decision-making. This approach can stimulate creativity, especially in well-established teams.

5. Autocratic Leadership Style
Autocratic leaders make decisions unilaterally, setting clear expectations and directions. While this approach streamlines the decision-making process, it may limit team creativity and involvement.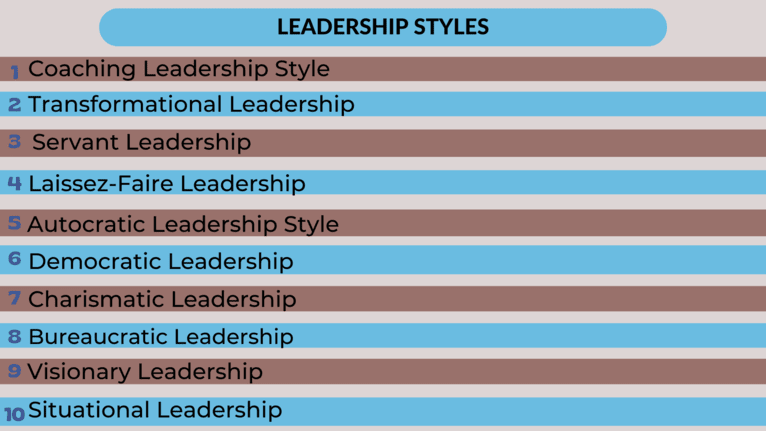 6. Democratic Leadership
Democratic leaders value team input and participatory decision-making. The democratic leadership style can be considered an approach that encourages innovation, as team members feel empowered to contribute their ideas.

7. Charismatic Leadership
Charismatic leaders influence through their magnetic personality and strong communication. Their compelling presence can inspire creativity and motivate employees toward a shared vision.

8. Bureaucratic Leadership
Bureaucratic leaders adhere to established protocols and rules. While this approach ensures consistency and precision, it might hinder adaptability and innovation.

9. Visionary Leadership
Visionary leaders set the course for the organization's future. Their strategic thinking and goal-setting skills drive long-term growth and guide product design.

10. Situational Leadership
Situational leaders adapt their style based on the context. This flexibility enables them to encourage creativity and effectively manage organizational change.
Understanding these leadership styles equips leaders to tailor their approach to the situation at hand. Effective leadership goes beyond adhering to a single style; it's about knowing how to leverage the strengths of various styles to foster team development, encourage innovation, and drive the organization toward its goals.
In an ever-evolving business landscape, leadership is most effective when it recognizes the importance of embracing different styles, depending on the needs of the team, the challenges faced, and the goals to be achieved. By mastering the art of balancing these styles, leaders pave the way for organizational success and growth.
Strengths and weaknesses of leadership styles
Which one of these styles of leadership is the most effective leadership style?
Remember, these types of leadership are not mutually exclusive, and effective leaders often adapt their approach based on their team's situation and needs. It's important to understand and utilize different leadership styles strategically to achieve desired outcomes.
Here's a breakdown of various leadership styles and their associated strengths and weaknesses:

1. Coaching Leadership Style
Individual Growth: Enhances personal and professional development.
Skill Enhancement: Improves employee skills and capabilities.
Strong Relationships: Builds trust and open communication.
Empowerment: Fosters ownership and accountability.
Tailored Approach: Provides personalized guidance.
Continuous Improvement: Promotes innovation and adaptability.
Time-Intensive: Requires significant time and effort.
Skill Requirement: Demands strong interpersonal and coaching skills.
Diverse Skill Levels: Challenging for teams with varying skill levels.
Resistance to Change: Some employees may resist coaching.
Short-Term Focus: Prioritizes skill development over immediate tasks.
Dependence on Leader: Can create dependency on the leader's guidance.
Results Take Time: Might not yield immediate results.
2. Transformational Leadership
Strengths:
Inspires and motivates teams
Encourages creativity and innovation
Focuses on a long-term vision
Fosters personal and professional development
Adapts to change effectively.
Weaknesses:
Potential for overly ambitious goals
It may not provide immediate direction
Requires high emotional intelligence, time-intensive
It may exist a possible resistance to change from some team members.

3. Servant Leadership
Empathy and Care: Focuses on the well-being and growth of team members, creating a supportive and positive work environment.
Collaborative Approach: Values input and ideas from all team members, fostering a sense of ownership and commitment.
Ethical and Values-Driven: Prioritizes integrity, honesty, and the greater good, promoting a strong sense of ethical leadership.
Long-Term Development: Emphasizes individuals' personal and professional development, contributing to long-term growth and success.
Employee Engagement: Builds trust, loyalty, and job satisfaction by genuinely valuing and investing in the team.
Time-Intensive: Requires significant time and effort to focus on individual needs and growth.
Challenging to Implement: Requires high self-awareness, emotional intelligence, and a genuine desire to serve others.
Potential for Exploitation: In some cases, leaders may prioritize others' needs to the detriment of organizational goals.
Clarity in Decision-Making: Balancing individual needs with organizational objectives can lead to ambiguity in decision-making.
Dependency on Leader: It may create reliance on the leader for support and guidance, inhibiting independent decision-making.

Servant leadership is a unique approach that places the leader in a role of service to their team members. It can be highly effective in promoting a positive work culture and individual growth, but it requires strong interpersonal skills and a commitment to the well-being of others.

4. Laissez-Faire Leadership
Strengths:
Empowers team members
Encourages autonomy and ownership
Fosters creativity and initiative
Works well with experienced and self-motivated teams.
Lack of guidance and direction
Potential for confusion and miscommunication
It may lead to unequal distribution of workload
Requires skilled and motivated team members.

5. Autocratic Leadership Style
Strengths:
Quick decision-making in high-pressure situations.
Clear chain of command and efficient communication.
Suitable for tasks that require strict compliance and control.
Weaknesses:
Limited input from team members can hinder creativity.
May lead to low morale and job dissatisfaction.
Can create a culture of dependency on the leader's decisions.

6. Democratic Leadership
Strengths:
Encourages employee participation and input in decision-making.
Fosters creativity and innovation due to diverse viewpoints.
Builds a sense of ownership and commitment among team members.
Weaknesses:
Can be time-consuming, especially for complex decisions.
May lead to indecision or conflicts if consensus is not reached.
Not suitable for urgent situations where quick decisions are needed.
7. Charismatic Leadership
Strengths:
Inspires and motivates through the leader's personal charm and vision.
Can create a strong emotional connection and commitment among followers.
Effective for driving change and rallying people around a shared goal.:
Weaknesses:
Overemphasis on the leader's charisma may overlook other important factors.
Relies heavily on the leader's personality, which can be inconsistent.
It may not work well if the leader's vision conflicts with practical realities.
8. Bureaucratic Leadership
Strengths:
Provides clear structure and rules for decision-making.
Ensures consistency and uniformity in processes.
Suitable for situations where compliance and regulation are crucial.:
Weaknesses:
Can stifle creativity and innovation.
Can cause am inflexible or rigid work environment.
Slow decision-making due to adherence to rules and procedures.
9. Visionary Leadership
Strengths:
Inspires a shared vision and sense of purpose.
Drives innovation and forward-thinking.
Motivates employees by aligning their work with a compelling future.
Weaknesses:
Overemphasis on the leader's vision can disregard other viewpoints.
May not provide immediate solutions to current challenges.
Requires effective communication to ensure the vision is understood by all.

10. Situational Leadership
Strengths:
Adaptable to different situations and individual needs.
Provides tailored guidance and support to team members.
Can enhance employee development and skill-building.
Weaknesses:
Requires a deep understanding of each team member's capabilities.
May be time-consuming to assess and adjust leadership approach.
Can be complex to implement consistently across diverse teams.

Please note that these strengths and weaknesses are not exhaustive and can vary based on specific contexts and the individuals involved.