Madfit
Madfit on her real name Maddie Lymburner is a Canadian YouTuber, fitness model, and Influencer.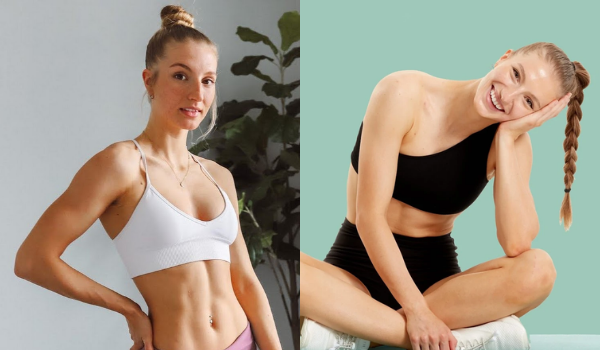 First Appearance:
2015
Waterdown, Canada
Occupation(s):
Fitness trainer, Instagram influencer, Entrepreneur

Years active:
2015–present

Social media accounts

Born in 1995 in Waterdown, Ontario, Maddie grew up with two younger brothers.
Maddie is no stranger to the competitive sports world. She started dancing at the age of three and continued dancing competitively for 17 years.
Besides being a fitness guru, Maddie is also a connoisseur and processional tap, jazz, and pointe dancer. She is used to training between three to seven hours a day, six days a week.

Maddie worked at a health food for a few years in high school and after graduating.
In 2015 she became a vegan and started documenting her journey on the Youtube channel Maddie Lymburner.
After her channel hit 1000 subscribers, Maddie quit her job and embarked on a few months-long trips in Thailand, Bali, Australia, and Hawaii, alongside Kyle, her boyfriend at that time. She shared all her culinary and travel experiences with her audience, propelling her off in the world of vlogging.
By 2016, the Maddie Lymburner channel had over 60.000 subscribers.

Since April 2017, Madfit has been a full-time vlogger.
But because she had quit dancing, Maddie felt the need to continue some sort of workout routine, so Lymburner started her second channel - Madfit on the second of March, 2018.
The Madfit channel is focused on home workout videos as opposed to her first channel that was all about veganism, recipes and travel.
When the pandemic hit, Maddie's Madfit channel exploded due to the closing of gyms.

Currently, Maddie is active only on her Madfit workout channel which has around 7 million subscribers.
She also created a fitness app called Madfit - workout at home, designed to help beginners and intermediates work oun their fitness goals.
The Madfit app combines customized training programs with nutrition tracking.
Maddie and her boyfriend Kyle broke up but he continues to handle the admin work at the Madfit business.