Matieres Fecales
Matieres Fecales aka Fecal Matter is the creative fashion and social concept of duo Hannah Rose Dalton and Steven Raj Bhaskaran.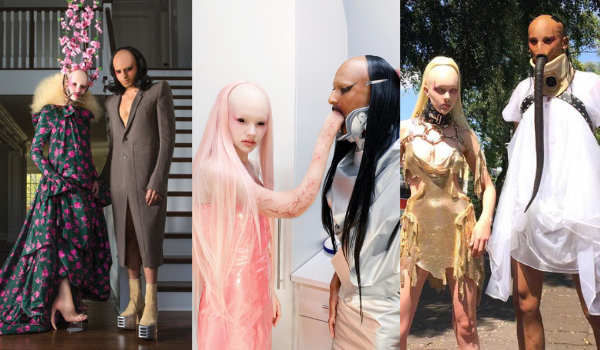 First Appearance:
2016
Montreal, Canada
Occupation(s):
Fashion brand, Instagram influencers

Years active:
2016–present

Social media accounts
Hannah (25) and Steven (27) met while studying fashion at LaSalle College in Montreal.
Both Dalton and Bhaskaran felt like the world is an oppressive place and instantly connected over more idealistic approaches to society and fashion.
The couple started shaving their head and eyebrows, wearing alien-like makeup and dressing in the most outrageous outfits made by them.
Their Instagram account @matieresfecales grows by the day, with a current 752k following. Hanna and Raj don't just do it for the gram but also embrace their style on a day-to-day basis.
Whether they are going shopping by bus in Montreal or have a televised interview, Matieres Fecales are always dressed for the occasion of provoking societal norms.
Matieres Fecales' name critically mirrors the flaws of the fashion industry which in many ways resembles human waste.
"We find beauty in what can normally disgust the general public. We find beauty in our wounds and our injuries caused by violence and abuse. It helps us heal to turn the negative into something positive." — Hannah
Fecal Matter fashion is the embodiment of anti-establishment in fashion as well as a way of breaking free from the limiting social construct of our world as we know it.
The design duo sells their alien-like outfits on the platform Depop.
Hannah Rose and Steven Raj are on a journey of defiance of cultural viewpoints, as well as a continuous battle with expressing their true creative existence.
Matieres Fecales strongly stands against fast fashion's sexism, racism, and the destruction of our environment.
In their skin boots and black sclera contacts, the post-human couple promotes critical thinking and perception expansion.