PR Clipping
What is PR Clipping?
PR clipping or press clipping is the process of collecting data about a company's mentions in the media, for the purpose of analyzing the effectiveness of public relations activities.
Back in the days of traditional marketing, way before online publications were even invented, there was something called "press clippings". The name describes the process of cutting-out articles from a paper publication in order to highlight where a certain subject was mentioned in the press. In the 60s, press clipping agencies and services around the world began experimenting with audio and video recorders to monitor radio and television broadcasts, which were then transcribed and delivered to the client. Today, they are called PR clippings and represent the media mentions of a monitored brand name. It is usually the job of the marketing team or the PR agency to keep a close eye on the brand's reputation.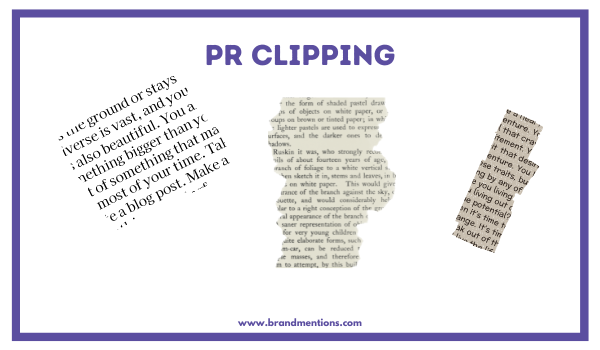 Why Collect PR Clippings?
Media monitoring is more than just about setting up Google alerts to get notified when your brand name is mentioned. Your online media marketing efforts deserve a propper evaluation of results. Here is why:
They measure your PR campaign effectiveness. PR clipping is a great method to measure the performance of your PR activities or marketing efforts. After launching a new campaign or product, it is elemental to monitor the quality of media attention. These results impact your future marketing decisions and strategies.
They give you powerful insights about your audience. Web and social media monitoring also reveal details about the audience of the brand. Having access to metrics like social media shares, likes, reach, and engagement is mandatory for data analysis. This way, you can assess how your brand is perceived by your audience and find out where you need to implement new communications strategies.
They help with crisis management. One negative review or comment can go viral and damage your brand reputation. But with the help of an innovative feature called sentiment analysis, brand monitoring software offers companies the upper hand in preventing reputation crises.
Additionally, web and social media monitoring tools help you find any unlinked or untagged mention of your brand. This is very helpful for SEO purposes but also for reputation management. You can also find social media mentioners or influencers that speak about your brand or brand-related content.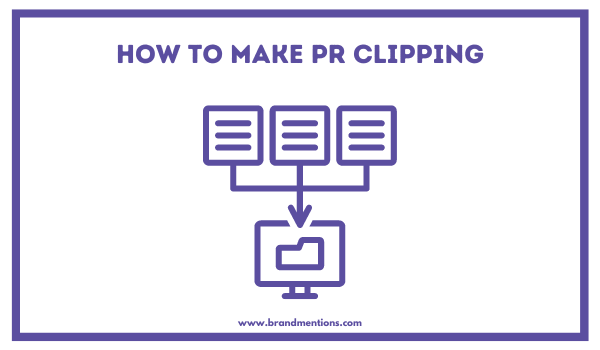 How to Make PR Clippings?
The easiest way to gather PR Clippings is to use a brand monitoring tool.
These tools monitor media outlets, web pages, and social media sources.
Google alerts or Google News are a cheap way to search for mentions, however, they only monitor results that come up on their platform.
If you want to catch all the brand mentions on the web and social, you need a specialized brand monitoring tool.
Tools like BrandMentions are designed for online media monitoring, reputation management, and market research.
All you need to do is create a query with the desired keyword, select the region, language, or other search details, and run the search. Once the project finishes the search, you will have access to detailed insights on the keyword, all across the web. You will be able to assess its online presence and identify the audience's perception of it. The reports can be shared with your marketing team or the business owner.
You can try it for yourself. 7-day free trial

In conclusion, clipping allows you to track your PR campaign but also enables you to explore the market in order to identify new opportunities and make better future decisions.

In conclusion, a clever PR strategy that involves management software and a web&social listening platform can help your campaign become one of the many success stories out there.