Press Clipping
What is Press Clipping?
A press clipping is a piece of article or picture that includes the mention of a specific subject and is extracted from a newspaper or magazine.
It is usually used by the public relations department in order to keep an eye on a brand's reputation.
Back in the day, when only the traditional forms of media were available, PR professionals were stalking media outlets, like newsletters, press release articles, news sources, tv, and radio. Radio monitoring started in the 50s and TV monitoring in the 60s. But newspaper clips were retrieved intentionally for media monitoring since 1852.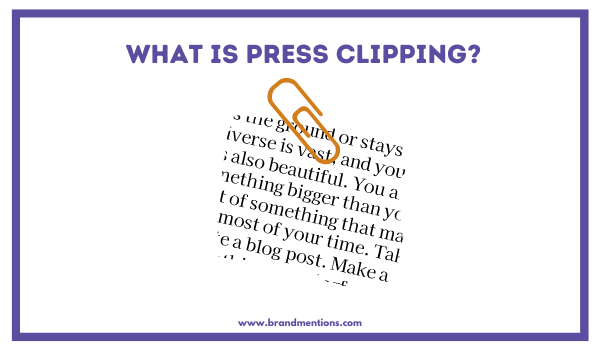 Press Clipping Today
Except for school projects or detective scenes, you might think nobody uses press clippings in 2022.
In the era of one-click-away universal information, why would people need to collect pieces of paper?
Long story, short: press clipping morphed into web & social media monitoring.
With the explosion of media markets, brands find themselves obligated to engage in reputation management and to start monitoring information about their brand through all media channels, especially online ones.
Online media monitoring entails extensive online research, complex media analysis, and thorough media mentions monitoring.
Brand monitoring software and platforms allow brands to scan online publications, social media platforms, or any other platforms where they create an online presence. By doing so, they measure the results of their marketing efforts, find out what type of media content works best, and translate easily audience data analysis.
PR clippings as we know them today are the easiest way to aid brand awareness, by creating direct links between the brand's pr campaign objective and the online influence score outcome.