Reputation Marketing
Reputation marketing is the process of controlling and influencing the public perception of a brand, business, or entity.
Its goal is to accentuate the positive qualities of the brand and promote these in a way that converts leads and shoppers into customers.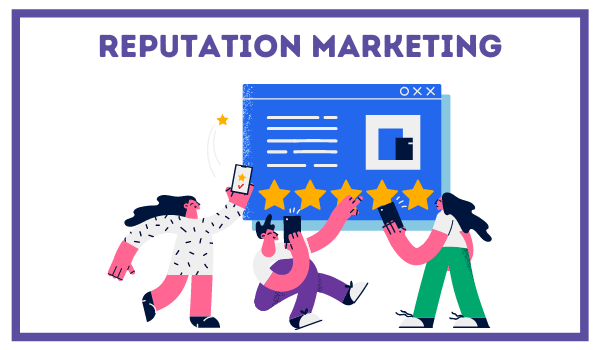 What is Reputation Marketing
Reputation Marketing is the fusion of reputation management and brand marketing.
It refers to the sum of actions of promoting positive content about a brand in order to increase a brand's image in the public eye.
Hence, reputation marketing involves actions like brand monitoring, acquiring positive brand content, and promoting such content.
Reputation marketing is used by marketers looking to build brand equity, attract new leads, drive customer acquisition, and improve a brand's online reputation.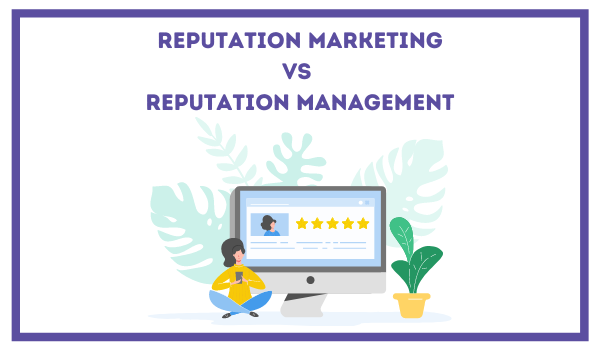 Reputation Marketing vs Reputation Management
Although Reputation Management can be easily confused with Reputation Management, they are two sides of the same coin.
Reputation management is about managing what the public thinks of a company. This implies being on top of both positive and negative reviews and media mentions, replying to negative social media comments or controlling negative feedback.

On the other hand, reputation marketing is a proactive business strategy focused on collecting and promoting social proof, online reviews statistics, or any other type of positive, actionable insights.
Online reputation management is more of an ongoing action that keeps in check business reputations, whereas online reputation marketing is a proactive, powerful marketing strategy that can ultimately create more market value.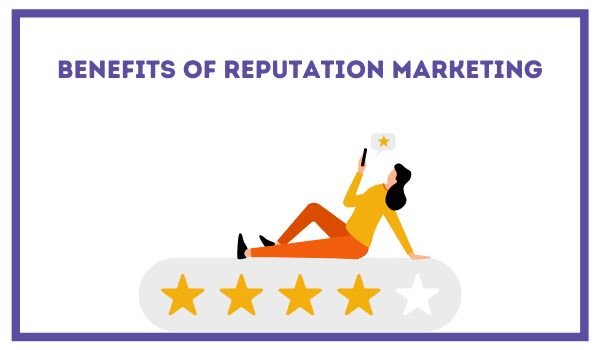 Benefits of Reputation Marketing
When it comes to reputational risks, this type of strategy has the power to keep a company's image clean and its business owners happy.
So here are the most important benefits of reputation marketing:
Positive proof of brand reputation influences buying decisions and brings more customers.
User-generated content has a 300% higher click-through rate. Companies with higher referrals rank higher in the search results.
A clean online marketing reputation creates happy customers and vice versa.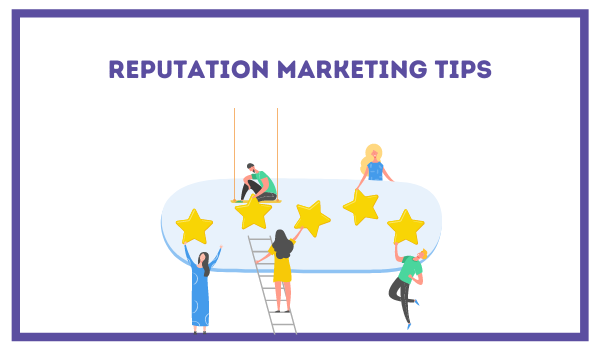 Reputation Marketing Tips
Regardless of the types of branding you are working with, improving your reputation is always a good idea. Whether you want to increase your consumers' trust, promote your brand in new markets, or just raise your reputation scores, here are 3 essential tips to do so:

Use a reputation marketing software
With the help of marketing software, you can easily keep an eye on new reviews, customer feedback, and overall customer experience. Tools like BrandMentions offer brand monitoring, social listening, review monitoring, and sentiment analysis. You can also dive into precious brand data and insights.

Keep your Google My Business up to date
If your brand has a fixed physical location but does not have a Google My Business profile, you are missing out on great opportunities. GMB is one of the most used reviews platforms with real customer feedback. This could be a powerful source of social proof for potential customers.
Own the Search Engines
Use reviews, mentions, and refferals as an SEO strategy. If you are able to link all the company mentions to your website, you will increase your search engine optimization, drive more web traffic and convert more clients. Use tools like BrandMentions to be notified every time a linked or unlinked mention of your brand hits the web.
With constant reputation marketing efforts, you will be able to minimize reputation risks and minimize the need for a crisis management intervention.