Rianne Meijer
Rianne Meijer is a Dutch model and Instagram influencer.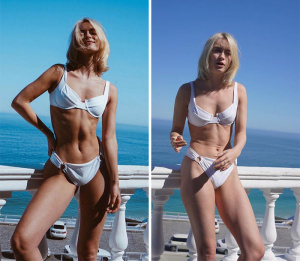 First Appearance:
2009
Netherlands
Occupation(s):
Model, Instagram influencer

Years active:
2009–present

Social media accounts

The 28-year-old Netherland-born model started her career in her teenage years by posing for different campaigns and staring in music videos.
Rianne, aka Riri, loves to post lots of travel pics, meal preps, and some fitness action on her social media. Rianne is engaged to Roy Atiya, currently preparing for their wedding.
Besides Instagram, Rianne Meijer also has a YouTube channel where she speaks freely about her life, gives tips to her 16-year-old self, or shows her interior designs skills.
She recently became popular on Instagram, earning 1.5 million followers by sharing Instagram vs. reality photos and videos.
Rianne's booty popping dancing videos alongside the double-chinned selfies made people see more than just a pretty face in designer clothes. Rihanne became the relatable girl next door who works hard to be a successful model.

Influencer Rianne Meijer shared the secret to perfect Instagram photos: choose one picture out of one hundred or maybe sometimes four hundred takes.

The blue-eyed model shows the world her funny side by making fun of her flaws in a cute, contrasting manner. People are sharing her content on every social media platform, making her the queen of expectations vs. reality disclosure.
Rianne is truly what the body image movement on social media needs in 2021.
Reference:
https://www.boredpanda.com/social-media-vs-reality-photos-rianne-meijer/?utm_source=keywordsgnitiveseo&utm_medium=referral&utm_campaign=organic