SEO Reputation Management
SEO Reputation Management is the practice of managing what the audience sees in the search results about a certain brand/business. While there are some certain things a company can do to control the information shared online, online reputation issues are sometimes beyond its power.
General Information
Managing SEO reputation can be tracked and keep it under the radar, but sometimes, when the viral internet strikes, the business can be flushed. It is important to optimize the website's content, and keep track of the online reviews, and perform social media monitoring for a wider perspective. Negative reviews and brand mentions can create stigma for a brand, and based on the information widespread it ca have more damaging effects on the future of the brand (clients loss, contracts, and investors declines, and many more).
Why SEO Reputation Management Matters
SEO has a lot of power. SEO is not dead as some people might think, but rather evolving and continuing to change according to people's needs. Google has updated its algorithms accordingly, too. Now the focus is on the user, what is he searching for, where is located, what other historical searches were made. A lot of information is collected from a user to get the desired search engine results.
SEO reputation is highly valuable for a business. Since a well-optimized website with good ranks is hard to achieve, image if something happens with its image. It has a lot to lose. Poor results can highly affect the business.
Reasons why SEO reputation management matters for any business, no matter if it's online or offline:
organic traffic loss
paid search traffic loss
overall marketing spending loss
income and profitability loss
company value loss
SEO Reputation Facts
Only 5% of people look past the first page of Google.
65% of consumers trust online search engines the most when conducting research on a business.
Google controls 75.34% of global desktop search traffic. Bing is number two at 9.94% of search engine market share.
The two most important factors used by Google to determine search rankings are: high-quality content and link building.
"Best" and "right now" mobile queries have grown by over 125% in the last two years.
Relevance to Online Reputation
Online reputation is a wider area and SEO has its place. Since lots of businesses have activity in online, then SEO reputation management is very important for the whole online brand reputation.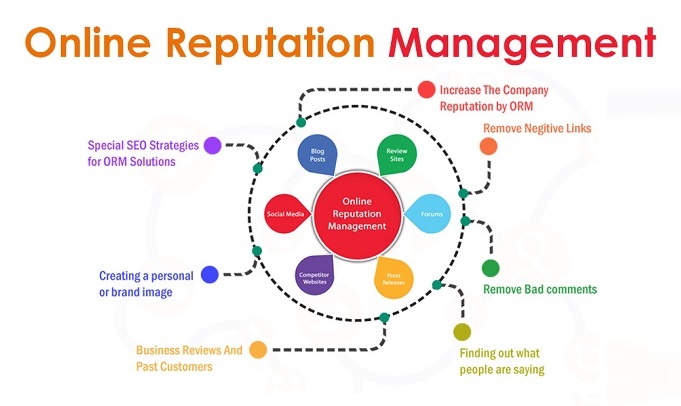 External Links
References