Sah D'Simone
Sah D'Simone is a spiritual teacher, transformational speaker, author, and social media influencer.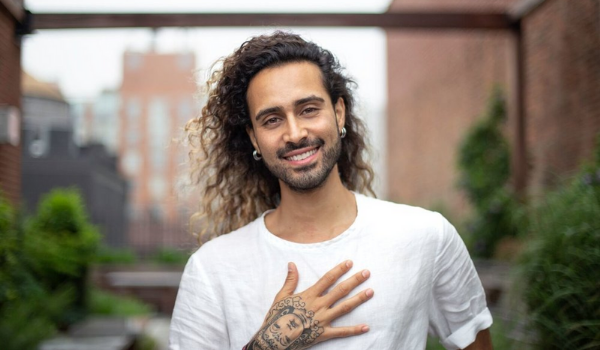 Full name:
Sah D'Simone

Occupation(s):
Spiritual Teacher, Author, Transformational Trainer, Entrepreneur

Years active:
2014–present

Social media accounts
Sah D'Simone was born and raised in Brazil and moved with his family to the United States when he was 16.
In his early 20s, he started working in the fashion industry, where he quickly made a name for himself. Sah became the co-founder and creative director of Bullet Magazine.
After about a decade of hard work in the fashion area, Sah dropped everything and flew to India in 2012 to find a cure for his depression and anxiety.
Sah Traveled around India, Thailand, Nepal, and Indonesia, where he studied Buddhism alongside great teachers like His Holiness the 14th Dalai Lama and Jetsunma Tenzin Palmo.
After finding balance in acceptance, Sah found out that living a true, authentic life is the secret to a happy, healthy life.
In the spring of 2014, Sah D'Simone returned to the United States, a sober, happy, outspoken person who wanted to help others do the same.
One of the first persons who took his personal experience as an example was Sah's sister - Moun D'Simone. After seeing Sah's radical change, Moun booked a plane ticket to India, where she immediately went to a 10-day silent retreat.
It took Sah D'Simone years of overcoming his problems and mastering the teachings he learned while away, only to become a bestselling author, spiritual guide, and social media celebrity with a combined 1 million following on Instagram and TikTok.
Sah's first book "5-Minute Daily Meditations" is a collection of 365 daily thoughts that invite the reader to meditate upon.
D'Simone returned on the shelves in September 2020 with his second paperback called: "Spiritually Sassy: 8 Radical Steps to Activate Your Innate Superpowers". Sah gives the readers a spiritual roadmap, paved with Psychology, health, and wellbeing tips,

Sah's enthusiasm and playfulness help his followers regain their power and find their true, authentic selves.
The meditation teacher, speaker, and bestselling author has since worked with Google, American Express, Kanye West, New Balance, The United Nations, and many more.
Sah D'Simone is currently riding the social media wave while marketing his Spirituality Sassy School.