Share of Voice
Share of voice refers to the place a brand occupies in the market, in comparison to other brands in their niche.
Originally, the share of voice described the share of a company's advertising space (print, radio or TV). But nowadays, with the abundance of digital marketing channels, the media share of voice is more competitive than ever.
This term incorporates all forms of measuring brand awareness.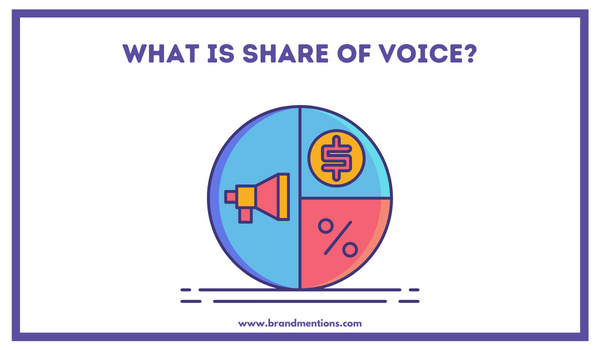 What is a brand without online visibility in 2022? Measuring SOV is essential for determining your brand awareness, ROI, and PR campaigns results.
But that's not all. Measuring the share of voice helps with brand management, conducting competitors analysis, monitoring media channels, and more.
Brands that calculate their share of voice are one step ahead with their digital strategy. Why? Because they can dive into market metrics, and adjust their marketing efforts in order to create relevant marketing campaigns.
By increasing your brand awareness, you can ultimately increase sales and market share.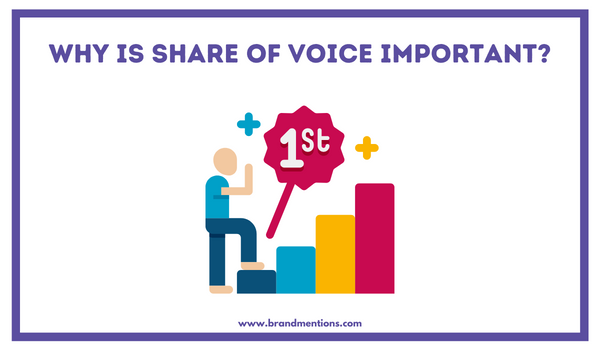 To determine your brand's share of voice, follow this formula:
Your brand's advertising spending divided by the total advertising in the market *100 = your share of voice.
Depending on the channel you are using to advertise your brand, you can calculate your share of voice depending on metrics like website traffic, web and social media brand mentions, PPC, SEO, and organic search.
When it comes to news and blog sites, you can measure your share of voice by monitoring your media mentions. In other words, to be aware of who and what is talking about your brand.
To do so, you will need the help of a listening tool.
With BrandMentions you can find out what people talk about your brand, everywhere on the internet.
If your brand uses social media as a voice metric, you can calculate share of voice by measuring brand mentions, hashtags, reach, impressions, or even sentiment.
Using a social listening tool like BrandMentions gives you access to important metrics Interactions like reach, impressions, social shares, likes, comments, top influencers, and even positive/negative/neutral mentions, with the help of sentiment analysis.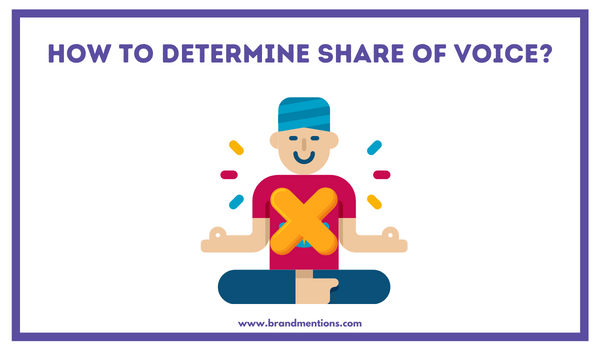 Measuring share of voice can be a tricky process without the right tools.
But marketing or PR agencies that use listening tools, have the means to further explore consumer insights and market performance indicators.
By employing social listening, you will be able to tap into every mention of your brand (even the ones behind closed doors). This way, you will be able to tap into the true customer experience and measure your brand's voice formula, compared to your competitors.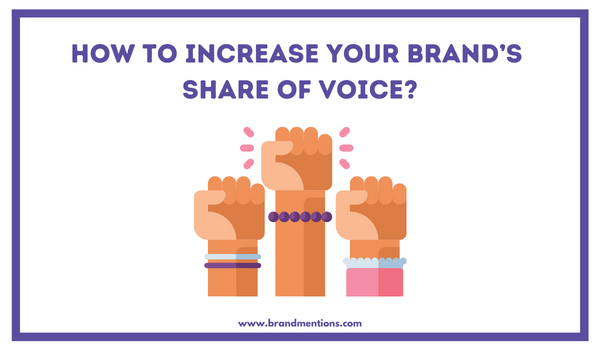 Here is how to increase your brand's share of voice:
Use social media mentions to create user-generated content- once you have identified your brand's mentions, you can use the positive ones to create and share social proof for your brand.
Use top social media accounts that mention your brand as brand ambassadors, influencers, or affiliate marketing representatives.
Adjust your web and social strategy to suit the current market trends- by doing keyword research you can discover new opportunities in the market, as well as gaps that your competitors have not filled in yet.
Create powerful backlinks, by staying on top of the online media, news, and blogs - whenever your brand is mentioned on the web, make sure to contact the source and turn them into "do-follow" links.
Use SEO tools to increase your online visibility in the search results and drive organic traffic.

All in all, increasing your share of voice with the help of a web and social media monitoring tool is a smart addition to any marketing strategy you might have. It helps in the long term, but it also serves as a powerful analytics tool.
You can try our 7-day-free trial and see for yourself.