Signal vs Telegram
Signal vs. Telegram which one wins the battle for the best WhatsApp alternative?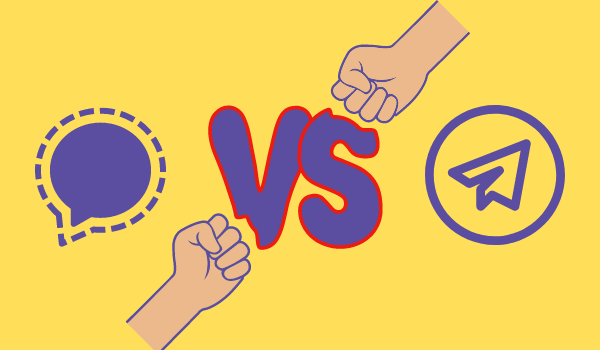 General Information
Since the WhatsApp policy update in which the instant messaging app announced that user's data will be shared with Facebook, many of the users decided to drop WhatsApp.
Since privacy is a big deal, sharing your contact details, hardware information, location, purchase history, or payment information with a company that is known for its abusive history with selling user information, is a big red flag.
Luckily, around the time of the backlash, two main messaging apps rose to popularity.
The battle now is between Signal and Telegram.
Signal vs Telegram on Privacy
Both Signal and Telegram promise more privacy than WhatsApp currently does.
However, Signal only uses phone numbers as user identification and app functionality.
Telegram, on the other hand, collects names, phone numbers, contacts, and user ID.
Signal vs Telegram on Security
Regarding encryption protocols, Telegram is not as secure as Signal is.
Telegram uses end-to-end encryption only in the secret chat feature.
Whereas Signal uses end-to-end encryption by default.
Both of the messaging platforms have the self-destruct messages feature, as an extra secure messaging precaution.
In definitive, Telegram and Signal are not equal when it comes to security since Telegram's server does store more data than Signal does.
Signal protocol is more privacy-oriented.
Signal vs Telegram on Messaging Types
Both Telegram and Signal work with instant messaging, voice and video calls, photo/video, or file sharing.
The difference is, Telegram has more sharing features and allows more people to join in a group chat.
More specifically, Telegram allows up to 200,000 people in a group chat, while Signal can only handle 1,000.
Regarding file sharing, Telegram opens its gates to files up to 2GB, whereas Signal can only handle 100Mb per file.
One of Telegram's features is cloud message synchronization. Just like with WhatsApp, signing in on the web or other devices to continue a conversation is possible.
But this is only because the information is stored on Telegram's server.
With Signal, the information is stored on your device, making device switching more complicated.
So it's safe to say that in terms of safety, Telegram has plenty of room to grow.
But in terms of features, usability, and design, the non profit Signal Foundation should consider investing more in that direction.
Signal vs Telegram on Cost and Availability
Both Signal and Telegram are free apps, available on Google Play, App Store, or Desktop.
Conclusion
In terms of privacy and security Signal protocol has data and user protection as its number one priority.
As Brian Acton- chairman of the Signal Foundation said: he wants people to own their own data.
In terms of usability, design, and overall user experience, Telegram is the more popular option.
In conclusion, if you are looking for a secure messaging app that keeps your data away from third parties, even from the app itself, pick Signal.

References:
https://www.howtogeek.com/709053/signal-vs.-telegram-which-is-the-best-chat-app/