Signal vs WhatsApp
Thinking about leaving WhatsApp?
Signal may be the best WhatsApp alternative.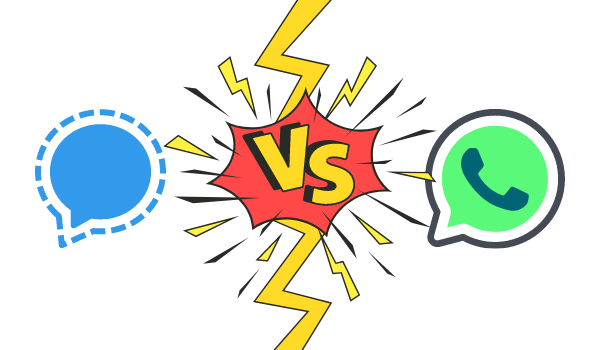 What is Signal?
Signal is a free instant messaging platform that uses secure end-to-end encryption.
Just like WhatsApp, Facebook Messenger, or Skype, the messaging app can also be used for voice and video calling, photo/video sharing or file transfers.
The Signal app allows group messaging for up to 1000 people or group calls with up to 8 users.
Who is Signal owned by?
Signal is owned by Signal Foundation, an American non-profit organization founded by Moxie Marlinspike and Brian Acton, in 2018. Because Signal doesn't focus on profit, it is funded exclusively by grants and donations.
Most people don't know this but the founder of Signal - Brian Acton- is actually one of the co-founders of the original WhatsApp (before the Facebook takeover).
Acton founded the Signal app after leaving WhatsApp saying that he wants people to own their own data.
Acton is now executive chairman of the Signal Foundation.
Is Signal really private?
Yes, Signal assures its users that the communication within the instant messaging app is private.
Why is everyone leaving WhatsApp for Signal?
In January 2021, WhatsApp announced alterations to their official privacy policy. They stated that various personal data about the users is collected and shared with the Facebook parent company.
When the WhatsApp data collection drama unfolded, many users called it quits with the instant messaging app.
Two of the next contestants to the private messaging business were Signal and Telegram.
Despite the fact that WhatsApp's security has never been a problem for the users, due to the secure end-to-end encryption, the users were not happy about the data collection policy updates.
Telegram spiked after the WhatsApp backlash, and although it does not collect nearly as much user data as WhatsApp does, Telegram encryption is far from the best.
Unfortunately, Telegram does not have end-to-end encryption by default.
They do have the Secret Chat and self destruct feature that users can activate, but all-in-all, their encryption protocol leaves room for better.
Most of the former WhatsApp users settled upon Signal instead.
Can police track Signal app?
No, police can not track Signal because it uses end-to-end encryption.
Although highly unlikely, depending on the apps and software the police are equipped with, they could access undeleted data from your phone if they have it on hand.
Can Signal be hacked?
No, there is no history of any successful hack attacks over Signal.
The Japanese company Cellebrite was the only one that claimed it could hack into Signal's encryption but fortunately for the instant messaging app, Cellebrite was wrong.
The only way to unrightfully access messages within the app is if the user's phone is physically taken by a third party.
Is Signal really better than WhatsApp?
To put it simply, yes. Signal is better than WhatsApp.
Signal does not collect user data besides users' phone numbers, and they are currently working on pin codes as a way of identifying users in the future.
In terms of UX and UI, Signal has most of the features that WhatsApp has.
Signal uses end-to-end privacy encryption as well as "disappearing messages" as an extra safety feature.
It is a fully open-source software which means the platform is transparent about potential vulnerabilities and risks.
On top of that, Signal is endorsed by Jack Dorsey, Elon Musk and Edward Snowden.
References:
https://indianexpress.com/article/technology/social/signal-vs-whatsapp-a-look-at-five-privacy-features-7177368/