Social Media Blackout
The Social Media Blackout also known as the Facebook outage refers to a 6 hour crash of the social media giant and its subsidiaries, Messenger, Instagram, WhatsApp, Mapillary, and Oculus.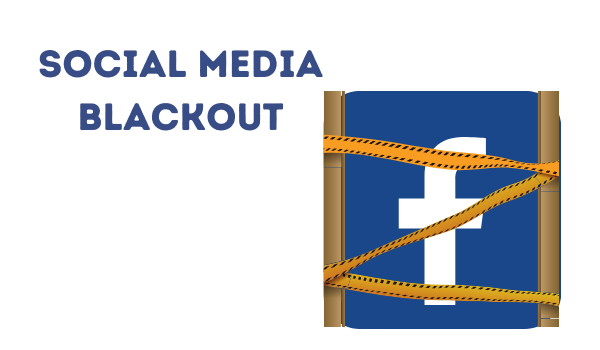 On October 4, 2021, at 15:39 UTC the digital world and its users experienced something that some described as the Apocalypse. For six hours, the whole Facebook suite became globally unavailable. Not only that but any attempt to log in to third-party sides through Facebook was impossible.
Moreover, users took by storm other social media platforms like Twitter, Reddit, Signal, Telegram, or Discord, causing disruptions on these apps' servers. With Facebook, Instagram, and WhatsApp down, Meta embraced the role of an avid Twitter user where they expressed their sincere apologies and their efforts in solving the issue.
This escalated into a series of retweets and tons of memes around Facebook and Mark Zuckerberg.
Facebook declared that the blackout was caused by a Border Gateway Protocol (BGP) withdrawal of the IP address prefixes in which Facebook's Domain Name servers were hosted.
Some media outlets and social media users believed the data outage to be linked with Frances Haugen's testimony on Facebook privacy.
Impacted by the blackout, Facebook shares in the company dropped by nearly 5% and Facebook CEO Mark Zuckerberg lost more than $6 billion.

Historically, 2021 is not the first time that Facebook suffers a shortage. In 2008, back when Facebook only had around 80 million users, a bug knocked the site offline for about a day.
Similarly, in 2016 another bug managed to briefly label many users as dead.

"Social media blackout" has also been associated with the #BlackoutTuesday movement which happened on the 2nd of July 2020.
The Instagram collective protest associated with the Black Lives Matter movement against racism and police brutality was originally a response from the music industry in response to the murder of George Floyd, Ahmaud Arbery, and the killing of Breonna Taylor.
Instagram was flooded by black tiles posts and hashtags of "Blackout Tuesday", "Black Lives Matter", and its abbreviation "BLM".
The Floyd death had a monumental impact on the Black Lives Matter movement.
Millions of people posted black squares on their Instagram feeds to show support to the black community and express disagreement with police violence.
References: https://www.theguardian.com/technology/2015/jan/27/is-facebook-down-outages https://en.wikipedia.org/wiki/Blackout_Tuesday