Social Media Trends
Social media trends refer to what's popular at a certain point in time, based on content sharing and interactions between users that appear on social media platforms.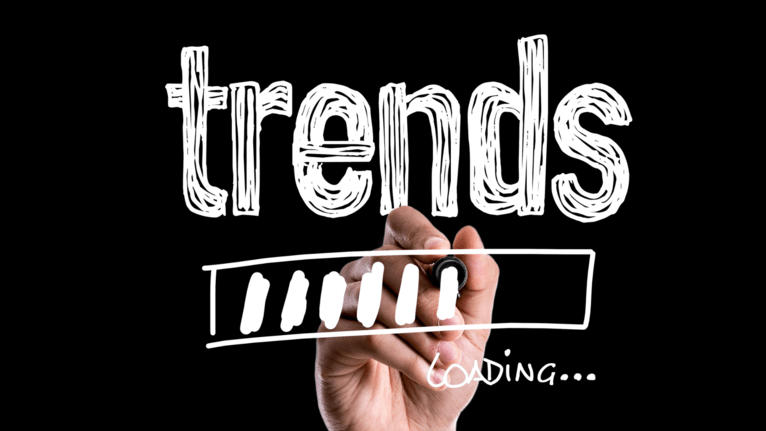 Social media trends
Here are some of the media trends to watch in the near future:
Video content is dominating
Early in 2022, The HubSpot Blog's Video Marketing Report found that video (vertical video, short video: Instagram Reels; YouTube Shorts, TikTok) was the most commonly used marketing content and the second most engaging content type on social media. And according to a Cisco study, by 2022, online videos will account for more than 82 percent of all consumer internet traffic — 15 times higher than it was in 2017.
Videos are getting shorter
Billions of dollars are being poured into TikTok, Instagram Reels, and YouTube Shorts, with the purpose of increasing their reach and the value for advertisers. TikTok was the first of the three platforms to burst onto the scene, but before TikTok, there was Vine, a popular short video service offered by Twitter, discontinued in 2017. TikTok raked in nearly $4 billion in revenue in 2021, mostly from advertising, and is projected to hit $12 billion in 2022, according to the research firm eMarketer. In June 2022, Google announced that YouTube Shorts has more than 1.5 billion monthly logged-in users. Meanwhile, Instagram's TikTok Clone, Reels, generates ad revenue at an implied rate of $1 billion annually.
Social media commerce will continue to grow
Facebook and Instagram make it easier than ever before to let consumers buy products without ever leaving those platforms. Also, social media groups created by brands to provide a networking platform for customers are exploding in popularity. Here, like-minded people can gather and talk about their shared interests.
Influencer marketing will continue to rise
Influencers reach a large number of potential customers, and using influencers is usually cheaper than running paid ad campaigns. A study by Morning Consult interviewed 2,000 13-38-year-old Americans and found that 72% of Centennials and Millennials follow influencers and that influencers are more trusted as spokespeople than celebrities.
Bite-sized content and short form will dominate social media apps
Social media users spend time watching a short video for entertainment and also learn more about brands and their services and products. In the following years, it's expected that most of the content shared around social media communities will be short-form video content.
Bite-sized content (short-form video content, like Instagram Reels or Youtube Shorts) allows content creators to gain and maintain engagement, even if the present and future audiences have a shorter attention span. The average human attention span is at around 8,25 seconds.
Marketers' strategy should definitely include video content, created as unique bite-sized content, for today's audience.
AI will play a big part in post recommendations on social apps like Facebook and Instagram
The last years were significant for AI, and it is expected that 2023 will be even more powerful for it. On social media apps (like Facebook and Instagram), we can expect to see more content recommended by AI in order to influence user engagement.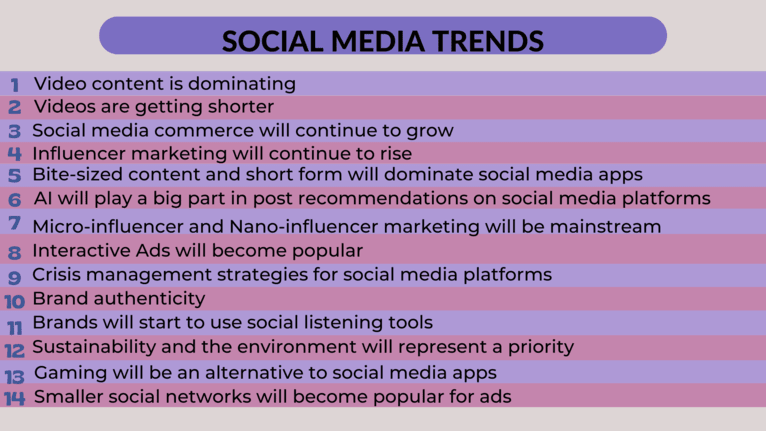 Micro-influencer and Nano-influencer marketing will be mainstream
In the coming years, Influencer marketing won't be only for big names on TikTok, Facebook, and Instagram. Big accounts on Instagram and Tiktok may have many followers, but given their volume of followers, engaging with their audience can be challenging. Nano and micro-influencers may take center stage as brands will likely choose them for their community-led approach.
Interactive Ads will become popular
AR and VR are some of the most popular extended reality technologies that opened great possibilities to drive user engagement. AR and VR can contribute to delivering a better shopping experience, driving brand awareness, and getting more viewing time from their target audience.
Crisis management strategies for social media platforms are essential in the coming years
As a PWC survey showed, crisis management strategies for social media platforms are essential in the coming years. Approximately 95% of businesses are expected to deal with a crisis in the next following years.
Social media apps and platforms have become a way of sharing information rapidly, including issues (major and minor). If left unaddressed, one minor issue can expand into a bigger one, affecting the brand (damage to your business, financial losses).
Using your social media platform as a tool to manage crisis management may regain the trust of your followers. In addition, businesses should aim to build deeper and more authentic connections with their audience for several benefits: brand health, excellent brand reputation, increased sales, etc.
Consumer behavior evolves constantly, but consumers demand authenticity from brands and value transparency more than ever. In addition to transparency, consumers expect brands to invest time in nurturing the connection with their audience. Being more active on social media is one of the ways businesses can gain trust among their clients and followers.
Brands will start to use (or use more) social listening
Social apps are a great resource for insights and data that brands can use for market research and improve their content strategy. A social listening tool makes it very easy to access these insights. A social media marketer can use social listening (monitoring apps) for a variety of activities: To measure the impact of social media strategies and campaigns To monitor their competition To acknowledge how people perceive the brand
In the following years, sustainability and the environment will represent a priority
Regarding sustainability, it's expected today's consumers would want to see and take action in order to make an impact. How is this related to brands? Consumers expect brands to participate in this movement and act on environmental issues.
Gaming will be an alternative to social media apps
By 2026, it's expected the gaming industry will be expected to reach approximately $321 billion. The gaming industry's growth it's related to the lockdown periods of the last years. Playing video games has helped people to find new ways to entertain themselves and connect with others. The increased popularity of AR and VR plays an important role in the gaming industry's growth.
Smaller social networks will become popular for ads
Pinterest and Snapchat are catching the attention of both consumers and brands in the same manner as TikTok did. Thus, Snapchat and Pinterest will gain popularity.
Pinterest
According to a Pinterest Business report, ads on this platform can trigger twice the return on ad spend for retail brands compared to other social media apps.
Snapchat
Although Snapchat is not as popular as TikTok, Facebook, and Instagram, Snapchat's advertising statistics reveal its potential advertising audience has increased.
References
Influencer Marketing HUB, "13 Social Media Trends in 2023 You Can Follow to Take Your Social Media Strategy to New Heights", https://influencermarketinghub.com/social-media-trends/
HootSuite, "The 11 Most Important Social Media Trends for 2023", https://blog.hootsuite.com/social-media-trends/