Sponsored Blog Posts
Sponsored blog posts are paid articles written by bloggers about specific products or brands on their blogs.
General Information
As previously mentioned, sponsored blog posts are when bloggers get paid to write articles on their blog about certain products or brands. Basically, brands and companies pay other bloggers to get featured on their blog. This can happen due to the authority of the domain/blog, to the expertise and popularity of the owner or due to other reasons.
Influencers or bloggers can share details on how you use a certain product or how it can benefit others and get paid to do it while writing about a product they like. They get paid for sponsored posts published on their own blog. They are familiar with search engine optimization and friendly with search engines, know the whole process for writing sponsored blog content.
Another option would be to join an affiliate program and use their affiliate links on their own blog posts. Through affiliate marketing, a blogger can earn a commission by promoting the brand's products, services and more. The brand should have a well-designed affiliate program for each blogger to have a unique link and system to gain money blogging. This way the blogger gets paid a commission for every sale made through that unique link generated by the system.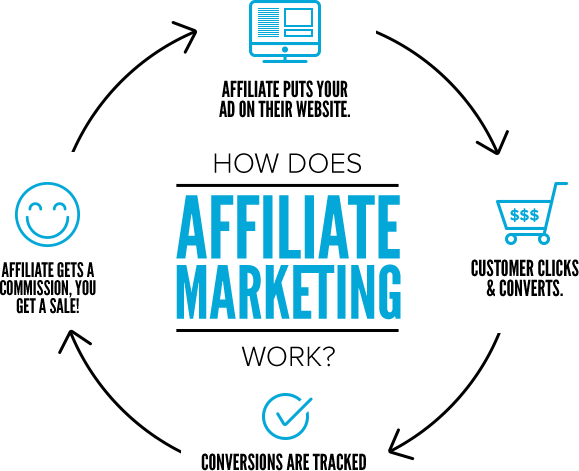 It is important that every person that writers sponsored blog posts to keep in mind three principles:[1]
Be honest and truthful
Your audience comes first
Don't sell yourself short
Examples of sponsored blog posts
Sponsored blog posts can be reviews for certain services, product testings, advertising, unboxing PR packages and many more.
Jillian of JillianHarris.com has written a post on "Dear Denim Diary", where she talks about Topshop jeans. He has a thorough presentation, description of the jeans and linked all of her products with affiliate links.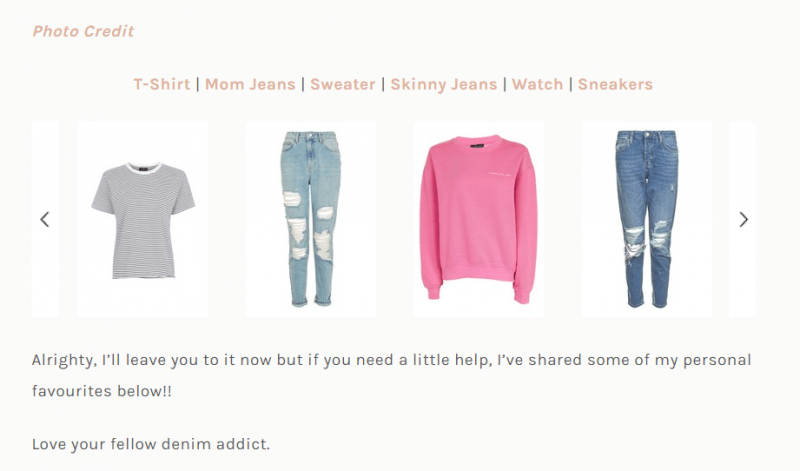 BuzzFeed accepts sponsored content (sponsored blog posts, guest posts and listicles) and has a whole strategy for this. They accept to publish promotional content and blog posts written by the brand itself. In the printscreen below you can see an article from Hot Wheels.

Benefits of using sponsored blog posts
When a person decides to start getting sponsored, they open the gate for lots of opportunities and benefits, which can be mutual. For the brand that pays, it can translate into:
reaching a new audience and increasing the chance to provide value
increasing brand awareness
grow the backlink profile (since there are paid links included in the post)
create a relationship for future projects
For the blogger that published the sponsored blog post, the benefits can be:
financial income
free products
free invitations to the events (depending on the collaboration)
free testing and future collaborations
Depending on the nature of the deal and signed contract, the sponsored posts can turn into a beautiful collaboration and generate lots of other sponsored projects. Getting sponsored content can be easier once you've created partnerships.
How much do sponsored blog posts cost?
There are lots of variations on how much should a sponsored blog posts costs. The blogger network recommends bloggers don't charge for sponsored less than $250.[2]
Sponsored blog post rates might differ since sponsored posts opportunities can be various. There might be others that could charge for sponsored posts less or a lot more.
Bloggers can charge based on the traffic they earn.[3] Take the example below:

The average monthly traffic is 65,084
The CPM is 65.
CPM is the cost per 1,000 impressions. We divided the traffic to 1,000. (65,048 / 1,000)

After that, you calculate an average range.
The range to calculate is $3.00- $6.00 per 1,000 impressions.

EXAMPLE:
65 * 3.00 = $195.00
65 * 4.50 = $292.50
65 * 6.00 = $390.00
Relevance to Influencer Marketing
Influencers can write sponsored blog posts since they got an audience with a numerous number of social media followers, have influence, own a blog, have experience and many more advantages. Lots of influencers gain money through sponsored posts on their blog, on their social media. Basically that could be the main income provider. Though, there are lots of situations when influencers don't mention, nor label that their content/picture is an ad or sponsored content.
Influencers are used to work with brands, have a portfolio, a media kit and usually a big audience.
External Links
References
↑ B. Cuadro, Get Your First Sponsored Blog Post With These Tips, 2018, https://convertkit.com/sponsored-blog-posts.
↑ A.Schroeder, How I Make $3,000+ Per Month With Sponsored Posts, 2020, https://www.fitnancials.com/get-paid-to-blog/.
↑ T.Fobes, How To Make Money with Sponsored Posts, 2019, https://traciefobes.com/charge-for-sponsored-post/.