Squeeze page
A squeeze page is a specialized web page designed to generate leads by capturing contact information such as the name and email address of potential customers. It focuses on a single conversion goal, usually achieved through an opt-in form that prompts visitors to provide information in exchange for lead magnets and valuable resources like ebooks or webinar registrations.
What is a squeeze page?
Squeeze pages are part of the sales funnel and are used to initiate lead-generation efforts. They differ from regular landing pages, with broader purposes like delivering product updates or showcasing content. Squeeze and landing page templates can be created using tools like a landing page builder or squeeze page builder.
In digital marketing, these pages often tie into ad campaigns on platforms like Google Ads, Facebook Ads, or LinkedIn Ads. Their high-converting design includes a clear CTA button and supporting copy that aligns with the overall marketing plan. To capture more leads, exit intent pop-ups may be employed.
The page employs squeeze page best practices to optimize its conversion rate. These practices often include a compelling call to action (CTA), social proof elements like customer stories or partner program logos, and sometimes a countdown timer to increase conversion urgency. The page might be AB tested to ensure it's as effective as possible.
Content marketers might use squeeze pages to promote resources like a new blog post, a resource library, or webinar registration. Real estate professionals might use them to offer property information. Digital assets like ebooks, webinar registrations, and product updates are commonly used as lead magnets.
WordPress plugins and marketing software can simplify the creation of these pages. They help with content management and allow for the collection of email addresses for future marketing efforts. Landing pages designed for specific ad campaigns can enhance an online presence and improve the effectiveness of lead-generation efforts.
Squeeze page characteristics
A squeeze page is a focused web page designed to efficiently generate leads by capturing visitor contact information, typically name and email address.
Conversion Rate Optimization
Squeeze pages aim to improve their conversion rate by employing effective strategies encouraging visitors to complete the opt-in form.
The primary purpose of a squeeze page is to generate leads from potential customers through strategic lead-capture techniques.
A compelling call to action (CTA) is pivotal for lead generation and achieving conversion goals.
Squeeze pages are often AB tested to ensure their elements are optimized for the most effective performance.
Landing Page Differentiation
A squeeze page differs from regular landing pages, as it is explicitly crafted to maximize lead capture rather than convey various information types.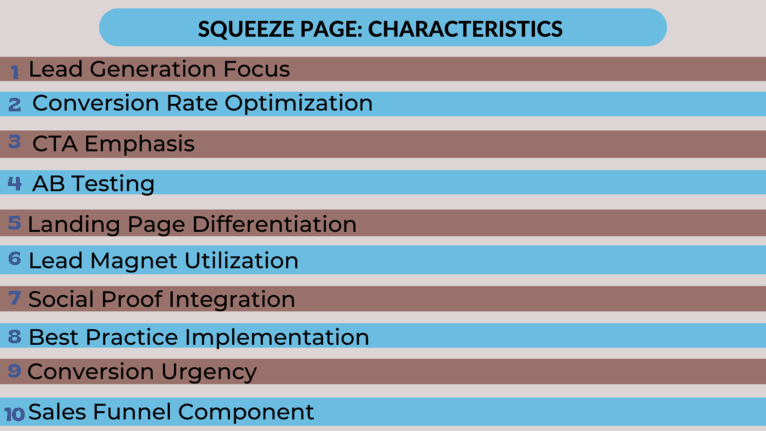 Squeeze pages often utilize lead magnets such as webinar registration or downloadable ebooks to entice visitors.
Squeeze pages often incorporate social proof elements, like customer testimonials, to enhance their credibility.
Best Practice Implementation
Employing squeeze page best practices ensures that the page is designed to achieve high conversion rates.
Some squeeze pages use a countdown timer to create a sense of urgency and increase conversion rates.
Squeeze pages are integral to the sales funnel, helping attract and capture potential leads.
Squeeze pages might offer a free trial option to encourage lead capture.
Content marketers often use squeeze pages to promote resources such as a new blog post or a resource library.
Squeeze pages can be easily created using tools like landing page builders or squeeze page builders, often integrated with platforms like WordPress.
Squeeze pages are frequently utilized in ad campaigns across platforms such as Google Ads, Facebook Ads, and LinkedIn Ads.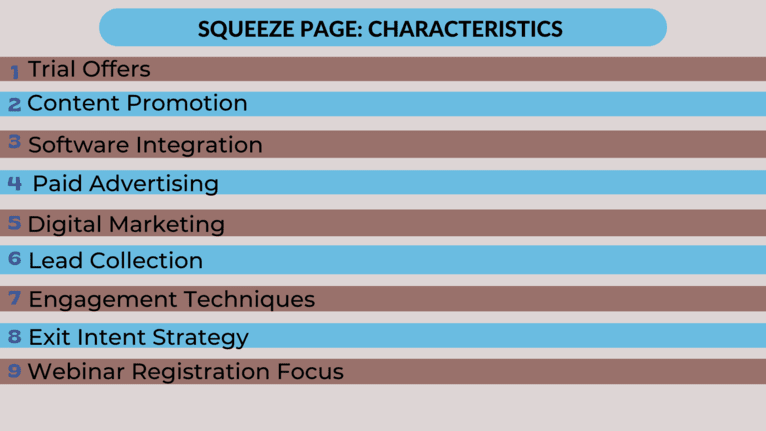 Squeeze pages are a core element of digital marketing efforts, aiding lead generation and building an online presence.
They are designed to capture email addresses and other contact information effectively for future marketing efforts.
Squeeze pages may incorporate engaging elements like customer stories and a clear CTA button.
Some squeeze pages utilize exit intent pop-ups to capture leads from visitors leaving the page.
Webinar Registration Focus
A webinar registration squeeze page is designed specifically to capture registrations for webinars.

These characteristics collectively contribute to the design and effectiveness of a successful squeeze page for lead generation and conversion optimization.