Tammy Hembrow
Tammy Hembrow is an Australian fitness model, Instagram Influencer, and entrepreneur.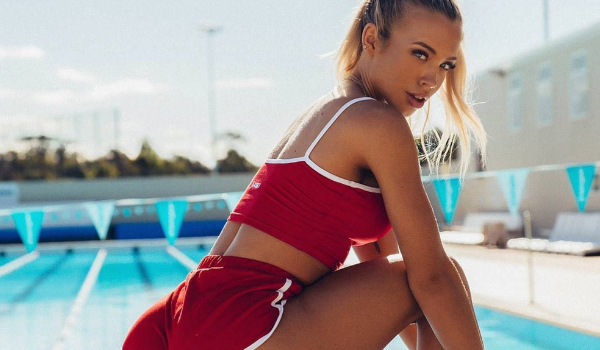 First Appearance:
2013
Queensland, Australia

Occupation(s):
Fitness model, Instagram star, Entreprenour

Years active:
2015–present

Social media accounts

The half-Australian and half-Trinidadian social media star was born on April 22, 1994, in Gold Coast, Australia.
Tammy had a simple, rural childhood, growing up in a farm setting. She played saxophone in middle school and her favorite animals were cows.
The fitness model has four sisters and two brothers and appears to be very close to her sisters.
Hembrow traveled to countries like Malaysia and Switzerland to experience urban life.
She later moved back to Australia where she loves to spend time on the beach.

Tammy studied Marketing but dropped out just before getting her Business Degree.
The hazel-eyed blonde discovered fitness after some time spent partying and unhealthy living in her teens and University years.
Living in Queensland, Tamy Hembrow had a four-year relationship with Reece Hawkins - personal trainer and social media influencer.
Tammy and Reece share two children -Wolf (six) and Saskia (five) but broke off their engagement in 2018, following a series of small social media scandals.
The Australian model rose to fame due to her documenting the pre and post mom life, but especially due to her amazing post-pregnancy body transformation.
Tammy also became famous after modeling for Khloe Kardashian's jeans company. Roummous say that the Australian model also helped with Khloe's weight loss journey.

Besides strong collaborations with fitness brands like Women's Best or Gymshark, Tammy runs two successful businesses: her app Tammy Fit and activewear brand Saski Collection.

In November 2021 Tammy got engaged to the surfer and triathlete Matt Poole.
The Queensland -based couple appeared to confirm their relationship last September.
Matt's rose-boat proposal had the support and approval of Tammy's family, including her two kids.

Tammy's Instagram fan base reached 13.5 Million, while her Youtube channel where she shares her fitness tips and daily personal vlogs, has 1.31 million subscribers.
Fun facts:
Tammy was born with two extra pinkie fingers (which were removed at birth).