Threads App
Threads App is a messaging app, a social network platform developed and owned by Meta. It is designed for private group conversations and is available for both iOS and Android devices. This service operates in a similar manner to other microblogging platforms like Twitter.
With Threads, you can create groups with specific sets of people, such as friends, family, or colleagues. It allows you to have focused discussions, and share updates, photos, and videos within these groups. The app emphasizes privacy and offers features like end-to-end encryption to secure your conversations. Threads App also provides a "Home" tab that shows a personalized feed of updates from your groups. You can easily catch up on the latest messages and content shared by your friends or groups you're a part of.
The Threads app was designed to provide a more private and focused messaging experience for close friends on Instagram.
Threads, which is an app developed by Instagram, provides a platform where users can create threads, engage in discussions, and follow profiles of interest. Users can post text, links, photos, videos, or any combination of these elements within Threads.
Users can be followed by others, allowing them to view their threads and replies in their feeds and from their profiles. The visibility of posts is determined by the privacy settings of the user's profile. Other users can reply to posts to contribute to the discussion and like, share, quote, or repost the content. Creating a Threads profile is open to anyone with an Instagram account.
Starting a new thread enables users to initiate a discussion and control who can reply to it. Replying to threads allows users to participate in the conversation actively. These replies will be visible within the thread and on the user's profile, where further replies can be made. It is important to note that not all replies may be visible, particularly if they are from private profiles of users who are not being followed.
Data from the user's connected Instagram account is used in Threads in accordance with Meta's Privacy Policy. This data includes personal info, such as:
Login information
Account ID
Name
Username
Profile picture
Bio
Links
Followers
Followed accounts
Age
In addition to all the above, it includes the account status regarding intellectual property violations and adherence to Instagram's Community Guidelines.
By connecting to the Instagram account, Threads utilizes the account's data to personalize the user's feed, import profile information, and ensure safety across both apps. The data from Threads may also be used to enhance the user's Instagram experience and uphold the safety and integrity of the services provided by Meta.
Key features of the Threads App
Here are some key features of the Threads app:
The app lets you create a dedicated list of close friends from your Instagram account. You can choose to share photos, videos, and messages exclusively with these individuals.
Threads App has a built-in feature that automatically updates your status based on your location, movement, and battery level. This feature aims to give your close friends an idea of what you're up to throughout the day.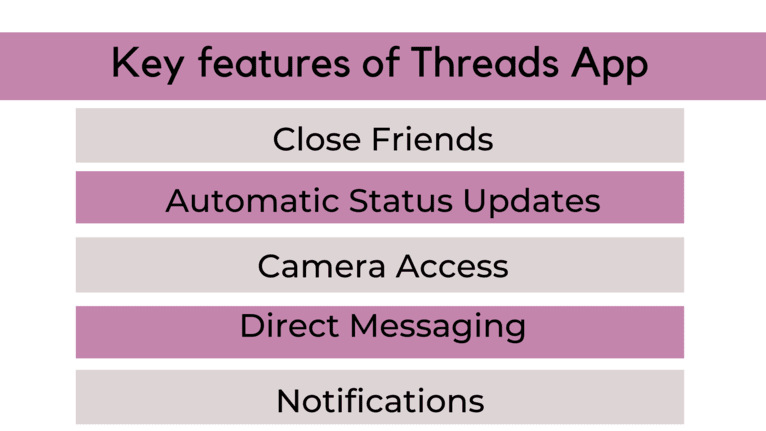 You can send text messages, photos, and videos to individuals or groups on your close friends list. Threads App emphasizes private conversations and aims to streamline communication with your closest connections.
The app offers quick and easy access to the camera, allowing you to instantly capture and share moments with your close friends.
Threads provide customizable notifications, informing you about new messages and updates from your close friends.
What you should know about Threads App?
1. Is Threads an Instagram app?
Threads is a social networking app developed by Instagram, a popular social media platform owned by Facebook Inc. It is available for download on both the App Store (iOS devices) and Google Play Store (Android devices).
Introduced as a companion app to Instagram, Threads focuses on direct messaging and connecting with close friends. It utilizes social networking protocols to enable users to share various data types, including photos, videos, and text messages.

2. When was the Threads App launched?
Threads was officially launched in September 2019 with the aim of providing a more private and intimate communication experience within a user's social circle. It was initially perceived as a rival app to Twitter, with some experts warning that it could potentially threaten Twitter's user base.

3. Why should Instagram users use a Threads account?
The app allows users to create a Threads profile separate from their Instagram account. This profile can be used to connect with friends and engage in direct messaging conversations. While it was touted as a potential rival to Twitter, Threads did not aim to replace Twitter entirely but offered an alternative social media platform.
Following its launch, Threads garnered significant attention, amassing millions of sign-ups within a short period. However, it faced some controversies, including threats of lawsuits and claims of trade secrets violation. Additionally, there were concerns raised by privacy advocates regarding the handling of personal information.

4. Is Threads App a Twitter rival?
Threads App, introduced by Instagram under the ownership of Mark Zuckerberg's Facebook Inc., was initially launched as a potential rival to Twitter, offering an alternative microblogging experience. It aimed to provide a more private and focused messaging platform for close friends within the Instagram community.

Yes, Threads App was initially positioned as a potential rival to Twitter. It was launched by Instagram, which is owned by Facebook Inc. The app aimed to provide a more private and focused messaging experience, primarily for close friends on Instagram. While Threads had similarities to microblogging platforms like Twitter, it was not designed to compete directly with Twitter's full range of features and functionalities. Instead, Threads focused on facilitating intimate conversations and sharing updates with a select group of close friends, distinguishing itself from the more public nature of Twitter.
In terms of competition, Threads App aimed to position itself as a Twitter alternative and sought to attract users from various social media platforms. However, it faced competition from other social apps and Twitter's existing competitors within the microblogging landscape.
References
Instagram, Threads, https://help.instagram.com/179980294969821
Facebook, Introducing Threads: A New Way to Share With Text, https://about.fb.com/news/2023/07/introducing-threads-new-app-text-sharing/