What PR Stands For
PR stands for public relations, meaning interacting or engaging with the public. It also means connecting with other organizations, influencers, companies or celebrities with large social media platforms.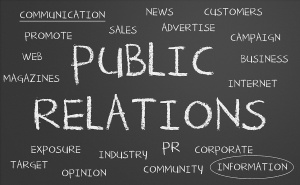 Successful PR strategies can benefit the company, such as sponsorship, partnerships, customers, visibility, and more.
Public Relations Strategies
Media relations means working with and through social media to interact with the public, share news, deals, pieces of information about the business and services.
Sponsorships can bring financial support for events, teams, small businesses in exchange for promoting them and feature their logo as a sponsor.
Internal communications are essential. They are interacting with employees using tools like social media, internal platforms, newsletters, formal and informal meetings to keep them motivated and included in the company.
Social events can increase the popularity of a business. Be careful to try to include elements for every type of guest to make them feel good and promote you.
Attending conferences, workshops can increase the awareness of your company and its offerings.
Be present on social media by trying to create good advertisements with memorable graphics and messages. Keep the interaction friendly but also professional with the public.
What do you need to start your career in the PR world?
You must complete a bachelor's degree in public relations, journalism, communications, or other related degrees.
Be creative and always have a backup strategy for what you want to do.
The training is usually on the spot, but the organization can offer training to increase your PR abilities. There is no certification required, but PR certifications exist and can help standing out in a competitive field.
How Much Does a Public Relations Specialist Make?
Public Relations Specialists made a median salary of $60,000 in 2018. The best-paid 25 percent made $81,550 that year, while the lowest-paid 25 percent made $44,490.
External Links
https://class-pr.com/blog/what-does-pr-stand-for/#:~:text=PR%20stands%20for%20public%20relations,who%20have%20large%20social%20followings.