White Label Marketing
White-label marketing offers a powerful digital marketing solution for agencies looking to scale their business and enhance their advertising strategies. By partnering with white-label marketing agencies, businesses can leverage ready-made marketing software and solutions to meet their clients' needs.
White Label Marketing - general information
One area where white-label marketing shines is social media content management. From creating engaging posts to scheduling and publishing content, white-label social media marketing enables agencies to streamline their client's online presence and enhance brand awareness. Additionally, white-label email marketing and marketing automation software help businesses implement effective email campaigns, improving customer experiences and boosting conversion rates.
With white-label solutions, agencies can offer a wide range of services, including local SEO, eCommerce analytics, landing pages, PPC management, reputation management, and more. In addition, white-label marketing agencies provide the expertise of marketing strategists, SEO specialists, content writers, and social media managers, allowing businesses to expand their service offerings without incurring overhead costs.
The benefits of white-label marketing are numerous. Agencies can choose white-label products and software and present a seamless experience to clients through a dedicated client portal with their company's name on it. In addition, the fast turnarounds and access to account managers ensure efficient communication and exceptional customer experiences.
By utilizing white-label marketing, agencies can focus on client relationships and growing their business while the white-label agency takes care of the marketing execution. Keyword research, guest posts, listings management, SEO audits, and social media management have become effortless tasks that experienced professionals handle.
In addition to digital marketing, white-label agencies often offer web development and design services. They act as an extension of the agency's team, providing project managers and web developers to create bespoke websites and mobile apps, enhancing brand presence and driving lead generation.
White-label marketing is a powerful tool that leverages the expertise of white-label agencies to help businesses deliver exceptional marketing campaigns. With white-label software, knowledge base, and support, agencies can confidently navigate the ever-evolving landscape of search engine optimization, Google Analytics, Google Ads, and content marketing.
Private labeling allows agencies to offer white-label products and solutions, ensuring their clients receive comprehensive marketing services under their brand name. From social media marketing to web design and marketing automation, white-label solutions empower agencies to achieve success and build strong customer relationships.
Benefits: What does white-label offer?
Here are a few benefits white-label offers to a digital marketing agency:
White-label products or services allow companies to customize and brand them with their own name, logo, and packaging. This will enable companies to offer a broader range of products or services without investing in the entire production or development process.
White labeling can be a cost-effective and time-saving strategy for businesses. Instead of developing a product or service from scratch, companies can leverage existing solutions and focus on marketing, distribution, and customer service.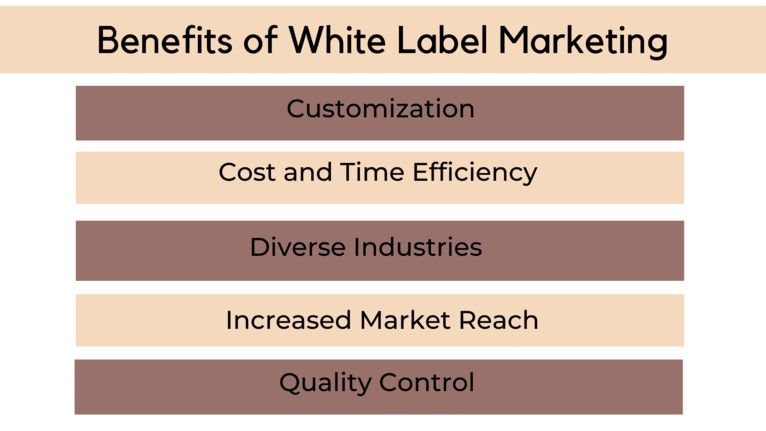 White-label solutions can be found in various industries, including technology, retail, finance, and more. For example, many technology companies offer white-label software that can be rebranded and resold by other businesses.
White-label products enable companies to enter new markets or expand their existing offerings. By leveraging another company's expertise, they can quickly introduce new products or services without the need for extensive research and development.
While the production is outsourced, the company rebranding the product or service maintains control over its quality and customer experience. They can set specific standards and requirements to ensure that the white-label solution meets their expectations and aligns with their brand image.

It's important to note that the specific terms and agreements of white-label arrangements can vary between companies, so it's essential to establish clear expectations and guidelines to ensure a successful partnership.
In conclusion, white-label marketing is a strategic approach that enables agencies to expand their service offerings, provide holistic marketing solutions, and scale their business efficiently. By partnering with white-label agencies, companies can tap into a wide range of expertise, deliver exceptional marketing campaigns, and position themselves as a full-service marketing agency in a competitive market.