Lil Miquela
Lil Miquela on her full name Miquela Sousa, is a virtual model, digital influencer, and musical artist.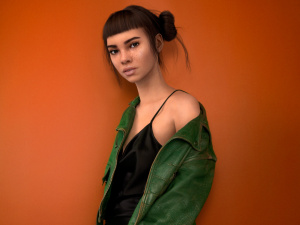 First Appearance:
2016
Los Angeles, U.S.A.
Occupation(s):
Virtual model, virtual influencer, music artist

Years active:
2016–present

Social media accounts YouTube Instagram

Although Miquela is obviously a robot, in the summer of 2018 she was named by Time Magazine as one of the 25 most Influential People on the Internet.
The virtual avatar was created in 2016 by Brud FYI - an L.A.-based computer software firm that has since grown its virtual influencers crew by two more: Blawko and Bermuda.
She was built as a 19yo half Brazilian-half Spanish aspiring music artist in Los Angeles who just loves social media.
Brud's co-founder Trevor McFedries is also a well-known music producer who aids Lil Miquela in building a music career. She already has over 5 music videos with a strong audience on board.
Miquela has collaborated with massive fashion brands like Channel, Calvin Klein, Prada, and even Samsung. In May 2019 Miquela starred a short but controversial ad for Calvin Klein in which she and Bella Hadid kiss.
Lil Miquela is a transmedia project who currently has 3 million followers on Instagram, over 2,6K subscribers on Youtube, 3.2M followers on Tik Tok. She is also a big deal on Discord where she loves to connect with her fans.
Fun fact: Miquela celebrates her birthday as a 19-year-old every year.

Reference: https://www.virtualhumans.org/human/miquela-sousa