Most Disliked YouTube Videos
The most disliked youtube videos are:
1. YouTube Rewind 2018 — YouTube
2. Baby Shark Dance - Pinkfong Baby Shark
3. Sadak 2 Trailer - FoxStarHindi
4. Baby - Justin Bieber ft Ludacris
5. Johny Johny Yes Papa - LooLoo Kids
6. YouTube Rewind 2019: For the Record - YouTube
7. Learning Colors – Colorful Eggs on a Farm - Мирошка ТВ
8. Bath Song - CoComelon
9. Lakdi ki kathi - Jingle Toons
10. Wheels on the Bus - CoComelon
11. Old MacDonald Had a Farm - Bounce Patrol
12. Humpty the train on a fruits ride - Kiddiestv Hindi
13. Can this video get 1 million dislikes? - PewDiePie
14. Keysha Play Filling Water in Balloons Daddy Finger Nursery Rhymes | Learn Colors With Balloons - Zuni and Family
15. Flores - Vitão & Luísa Sonza
16. It's Everyday Bro - Jake Paul ft. Team 10
17. Chal Chal Gurram - infobells - Telegu
18. Despacito - Luis Fonsi ft. Daddy Yankee
19. Baa Baa Black Sheep - CoComelon
20. Dame Tu Cosita - El Chombo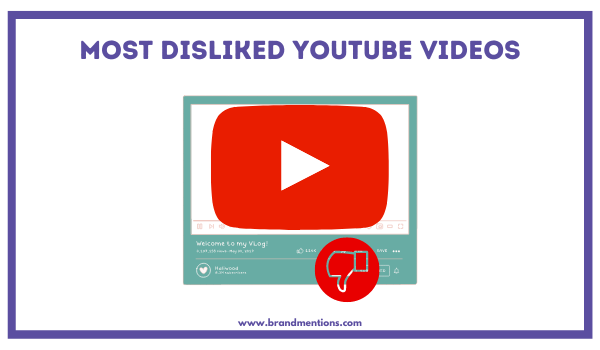 With over 2.6 billion monthly active users, and over 500 hours/minute of new content uploaded every day, YouTube has become the go-to place for people of all ages, from all over the world to find entertainment, education, and news.
Videos on YouTube have become so popularized that artists, tv channels, politicians, activists, teachers, brands, and many others choose this platform to share their content.
After 11 years of having both the option to vote and see the number of likes and dislikes, on December 13th, 2021, YouTube removed the ability to see dislikes on their platforms. The dislike video button is still available, but users can not see the dislike count of a Youtube video.
However, the latest Youtube charts showed that the majority of disliked YouTube videos were children's songs. From Baby Shark, yes yes vegetable's song, to Sesame Street's Shake Shake The Mango Tree, people seem to have no liking for kids videos.
However, a lot of the videos from the list above are also on the list of most-viewed or most-liked YouTube videos.
This is because the dislike count does not indicate the true unpopularity of videos. The real likability of a YouTube video is defined by the dislike percentage.
For example, Rebecca Black's 2011 Friday video was at the same time named "YouTube Worst Video" with 3.2M dislikes while simultaneously being the "Most Liked Video" at 760K likes.

Here are more YouTube stats.