Most Liked Instagram Post
The most-liked Instagram post is a picture of an egg.
The photograph of a hen's egg currently holds the world record for the most Instagram post, with over 55.8 million likes as of March 2022.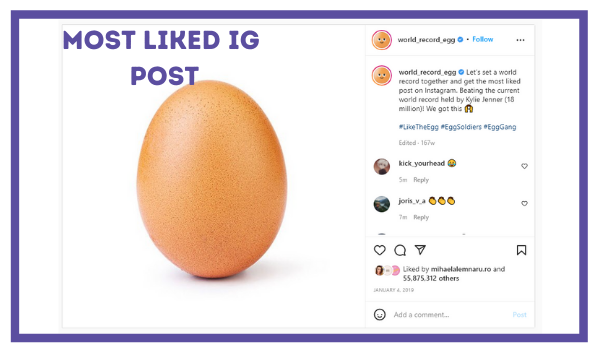 The egg picture comes 9 years after the first-ever Instagram post and almost one year after Kylie Jenner's 18 million likes record post.
On the 4th of January 2019, the account world record egg posted its first and only photo.
The caption reads: "Let's set a world record together and get the most liked post on Instagram. Beating the current world record held by Kylie Jenner (18 million)! We got this 🙌".
Ten days later, the photo of the egg reached 30.5 million likes.
As of March 2022, the egg was liked by more than 55.8 million accounts.

The concept is a creation of Chris Godfrey, a British advertising executive.

The egg was part of a social media awareness campaign to promote mental health awareness.
The world record egg proves that a marketing diamond can be used to help a social cause.

But for the most part, celebrities take up the most space when it comes to Instagram engagement.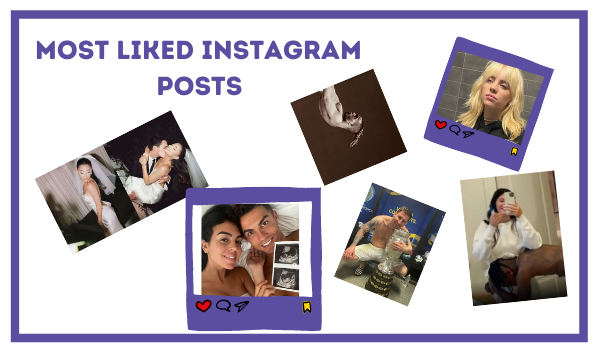 So here are the most liked Instagram photos of all time:
Cristiano Ronaldo's October 2021 pregnancy announcements, with 32,804,295 likes. Cristiano also holds the record for the most followed account on Instagram.
Xxxtentacion's last Instagram post before his death. The rapper's final post raised more than 28,8 million of likes.
Ariana Grande's wedding photos with Dalton Gomez. The wedding kiss carousel positioned the newlyweds up in the 4th place of Instagram's most-liked posts.
Kylie Jenners and Tavis Scott announcing their second pregnancy. Kylie is known for blowing up the social networking platform. This video post received no less than 24.5 million likes.
Billie Eilish's blonde hair reveal. Fans loved Eilish's new look even days after revealing her blonde hair and a new haircut.
Leo Messi getting signed with PSG. After announcing leaving Barcelona, the football player announced his signing to Paris Saint-Germain F.C.
Billie Eilish British Vogue shoot. The infamous and revealing photo from British Vogue earned Billie over 21 million likes in a short amount of time.
A photo shared by Leo Messi with the Copa américa trophy. The Argentinian player raised over 21 million likes by posing next to the cup, in celebration of his national team.

Amongst social media's most-liked posts, are from celebrities like Jennifer Aniston, Tom Holland, Selena Gomez, Justin Bieber, Chadwick Boseman.