Twitter Edit Button
The Twitter edit button is confirmed and is real!
The Twitter edit button enables users to modify a Tweet after it has been posted.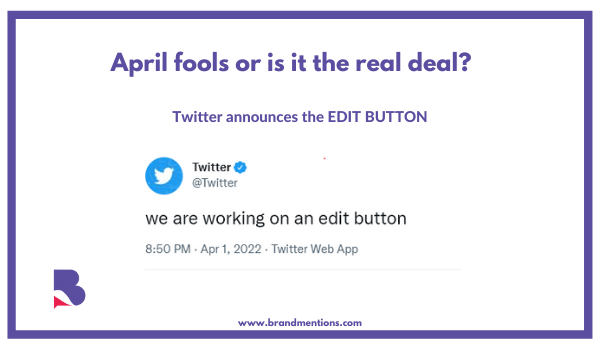 On April Fools Day, Twitter announced: "We are working on an edit button".
On April 6th, Twitter confirmed that they have been working on an edit feature since last year.
Although the world speculated that Tesla's CEO and new Twitter shareholder Elon Musk influenced this decisional announcement, Twitter subtly confirmed that Elon had nothing to do with the change.
The speculations were rooted in Elon's poll tweet on the 5th of April in which he asked his followers whether they wanted the edit feature implemented or not.
The Twitter poll had over 4 million votes, of which 73.6% said Yes.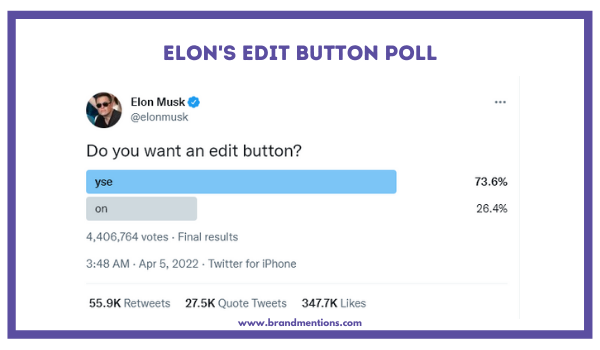 This started a wave of public conversations in which Twitter users suggested different options oh how to safer implement the feature.
Twitter CEO Parag Agrawal jumped into the discussion, retweeting Musk's original tweet, asking users to vote carefully.
However, the option to edit tweets is still a test and will only be available in the coming months to Twitter Blue subscribers, as Jay Sullivan explained in a tweet on Twitter.
Although Twitter already showed a teaser on how users will be able to edit their tweets, the workflow is still undisclosed.
Twitter is actively seeking input about how to best manage the new feature by imposing time-limiting restrictions or log transparency to avoid the malicious use of the tweet button.
Users also want Twitter to continue to be a space where people can be held accountable for their tweets.
Twitter labs are testing an edit button that will convey an optimal solution in the coming months. Along with its largest shareholder, Twitter blue users are excited about the big reveal.
Taking it back to 2018, when former Twitter boss Jack Dorsey affirmed that Twitter would probably never have an edit button due to transparency concerts, 2022 seems to be a year of great change for Twitter, especially with Elon's takeover efforts.