Chase Hudson
Chase Hudson aka LIL HUDDY is an American singer, social media celebrity, and actor.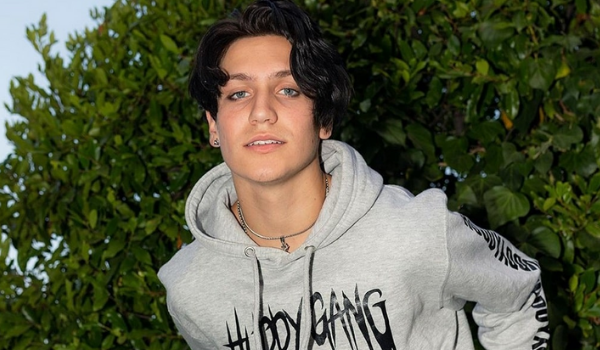 Full Name:
Cole Chase Hudson

Occupation:
Singer, TikTok Star, Actor

Age:
19

Date of Birth:
May 15, 2002

Place of Birth:
Stockton, California, United States

Years active:
2019-present

Social media accounts:

Chase Hudson was born in Stockton, California on the 15th of May 2002. He was born in a family of school teachers Cole and Tamora Hudson. He has two older sisters Karissa Hudson and Marlena Hudson, both TikTok stars.

After having a hard time in middle school, Chase's parents switched him to online schooling which turned out beneficial to his busy career life.

Chase Hudson aka LILHUDDY started his career in 2019 on YouTube and TikTok. He became famous on TikTok by lip-singing to famous songs.

In December 2019 he co-founded with Thomas Petrou the TikTok collective called "The Hype House". Besides being a creative collective concept, The Hype House is also a physical mansion in Los Angeles.
TikTok famous creators like Charli D'Amelio, Thomas Petrou, Addison Rae, and Dixie D'Amelio, are all a part of the creative collective.

Chase is signed to the talent agency WME just like other TikTok celebrities.
On the 15th of January 2021, Chase made his first appearance as an actor in the film "Downfalls High", an adaptation of Machine Gun Kelly's album.
Shortly after, the social media personality started his career as a singer on February 18th when he debuted his first single "21st Century Vampire" under Interscope Records. Since then, he has released two more singles with the help of Travis Barker.

Chase is best known for his relationship with TikTok mega influencer Charli D'Amelio. They have dated from December 2019 until April 2020. Although they had a public breakup, they still remain friends.

Hudson is currently followed by a whopping 32.2 million TikTok users around the world, 11.7 million followers on Instagram, and 2.24 million subscribers on YouTube.

External Links
https://www.yahoo.com/lifestyle/happened-between-charli-d-amelio-001533751.html#:~:text=The%20two%20confirmed%20their%20relationship,been%20dating%20since%20December%202019.