Social Media Sponsor
Social Media Sponsor is a type of collaboration where a brand is giving products or money to a user account for promotion and /or selling purposes. The sponsor can be a person or an organization offers money to another social media account (influencer, personal brand, or authoritative accounts) in exchange for other benefits.
General Information
The social media sponsor pays for or contributes to the costs involved in social media advertising. Usually, a brand sponsors an influencer or an authoritative account to share information about its products or services through an advertising campaign. On Instagram, for example, we can see paid partnership posts.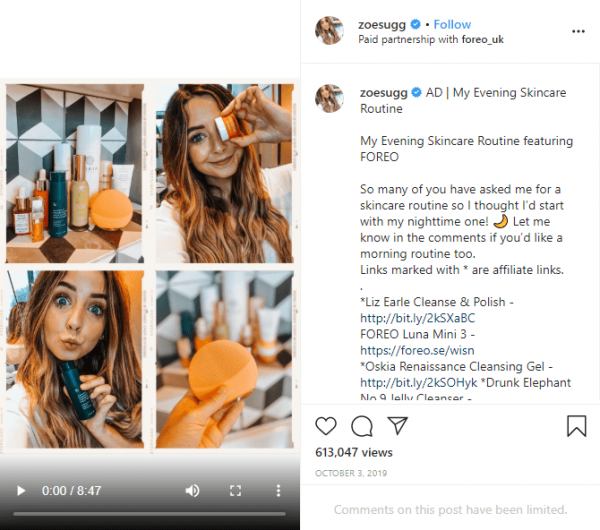 Sponsored posts through the Instagram ads system give you more range, cross-platform reach if you choose, and targeting capabilities, and you still can add an actionable button and a URL. The creation process takes a tiny bit more time and isn't done within the app, but all advantages and reasons suggest that sponsored posts are going to be the way to go for most businesses.[1]
How to Get Sponsored on Social Media
For a social media user to get sponsored, it should follow some guidelines before going all in. First, just dip the toe in the water and try following the next steps:
Define your brand
Know your audience
Post consistently
Use hashtags and geotags
Tag brands in your posts
Include contact information in your bio
Pitch paid sponsorships
Know your worth
Relevance to Social Media
The social media world has expanded so much, that the traditional ways of sponsored posts are now in the past and new ways of promoted posts have taken the spotlight. Now, other brands or social media influencers can promote a brand's product through new ways of social media partnerships and collaborations.
Nowadays, brands actively seek out thought leaders and influencers who can help to advance key business priorities. This way brands become social media sponsors for those leaders and influencers. It is right on target because they have an audience and brands can expand their market, it is easier to track results because it keeps direct contact with the influencer and they give information and help the brand promote its products.
References