Top Social Media Apps
These are the top social media apps:
Facebook
YouTube
WhatsApp
Instagram
Facebook Messenger
WeChat
TikTok
LinkedIn
Douyin
Sina Weibo
QQ
Telegram
Snapchat
Kuaishou
Qzone
Pinterest
Twitter
Reddit
Quora

The ranking of these networking platforms is based on the number of monthly active users.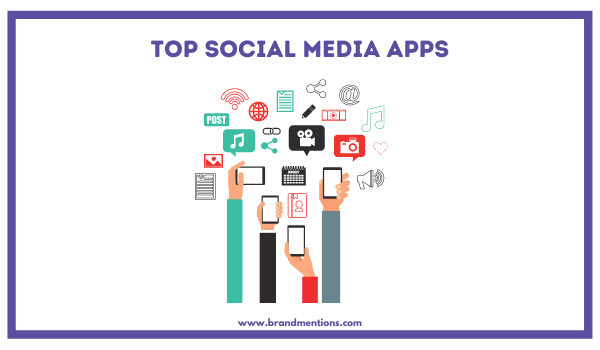 More than 5 billion people worldwide use the internet in 2022, and 4.62 billion people use social media on a monthly basis.
Most of them are using the biggest social media sites like Facebook, Instagram, Youtube, and TikTok, while others use less internationally known social networks with massive appeal.
However, for a social media marketer, it is crucial to know what social media platform is used by its target audience and what social media marketing strategy works best.
Of course, Facebook continues to be the most popular social media platform, with the widest audience and the vastest social media landscape. But this also means that competition is high and the engagement rates are lower.
This is why small business owners opt for a simpler marketing platform like WhatsApp Ads that runs on Facebook and Instagram and lands on Whatsapp business; Other brands go for affiliate marketing on platforms like Pinterest, and many brands use influencer marketing on Instagram, TikTok, or YouTube.
It is all about finding the right social networking platforms that fit your business plan and hoast your target social media users.

So let's take a look at the most popular social media apps and see what they can offer:
Facebook - around 2.9 billion active Facebook users go on the app monthly to see their friends, family, and the news. The popular social media site is very well optimized for ads, and the algorithm knows what its users want to see. A great way to promote your brand on Facebook is to leverage the power of groups. Content marketers who understand and use the power of community use Facebook groups to engage with their audience.

YouTube - 2.2 billion monthly active users jump on Youtube to funny cat videos, documentaries, or music videos. Video content and video editing being increasingly available, YouTube has also come to represent the monthly revenue for creators and businesses worldwide. It is not easy to market your business on YouTube, but you can simply hire a marketing agency or a content creator to produce engaging media on the video-sharing platform.

WhatsApp - the social media app was built for conversations. It currently has 2 billion MAUs and is one of the most used platforms in the world. Most users use Whatsapp for private conversations through texting, voice, video call, sharing images, documents, user locations, and other content. Besides private conversations, there is always the option of using the app in a more public setting like group chats. Advertising on WhatsApp is becoming an increasingly popular option for marketers looking to engage their audiences directly. The platform allows businesses to connect and chat with customers directly, creating a more personal point of contact.

Instagram - with 2 billion active users, the original photo-sharing app is now home to reels, carousels, live streaming, and stories. It is one of the most downloaded apps and is a neverending fountain of photo and video content. The mobile app is also the preferred platform for brands to dive into influencer marketing, having a really high engagement rate.

In other parts of the world, like China, some apps like Douyin, Kuaishou, or QQ are thriving.
The important thing is to find the best-fitted social media apps for your brand or products. How? Through social listening. Social listening lets you see where your audience resides, what kind of conversations they have around your product or your niche, and what they engage with most.