Social Media Specialist
A social media specialist is responsible for planning, implementing, and monitoring the social media company's platforms and strategies to increase popularity and visibility across the internet, improving marketing efforts to increase sales and create better selling strategies. To be a social media specialist requires a solid understanding of the online world and each social media platform, from the age, gender demographic to where the apps are in use, etc. The specialist is responsible for joining conversations, bringing information, and "soft selling" the company's product or service.
Competitive search is essential to build better strategies, benchmarking, and audience identification.
Create, edit, and share content every day. It can be in any form as long as it represents the company.
Set up pages on social platforms for the company. The content must be right in all of them, considering the differences and the pubic on these sites.
Moderate all user-generated content in line with the moderation policy for each community
Collaborate with other departments inside the company to make better content and strategies to attract more people around it.
Experience in the field of social media marketing
Consulting, writing and editing skills
Excellent communication abilities
Knowledge of social analytics tools
Adequate knowledge of web design, web development, CRO and SEO
Detailed content, customer-oriented
Multitasking and organizational abilities
BS in Communications, Marketing, Business, New Media or Public Relations
Average Social Media Specialist Salary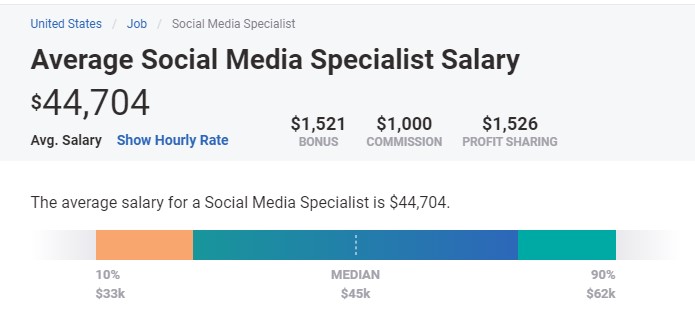 References
https://www.payscale.com/research/US/Job=Social_Media_Specialist/Salary